Athletic club ready to shape up De Soto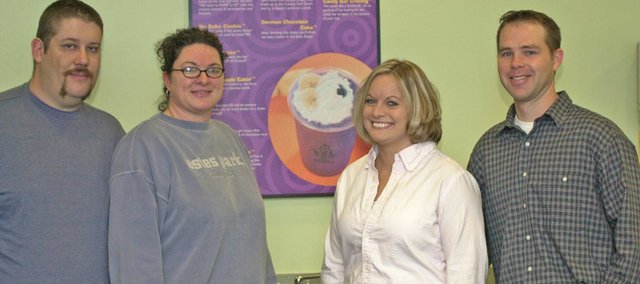 As she considers the of starting another business, Andrea McCoy finds comfort in what the new venture will offer her.
"We'll use it too," she said. "It'll help us deal with stress."
McCoy, her partner in KiddieKorner, Brenda Clark, and their husbands, Sean McCoy and Brady Clark, are preparing this week for the opening Saturday of De Soto Athletic Club two doors to the north of the day care in The Commons off Commerce Avenue.
Some of the space was formerly occupied by the women's health center, Body Shoppe. The new ownerships expanded the space by occupying unused space in the building to the north and introducing a number of features.
"We've added 3,000 square feet," Sean said. "We'll be co-ed and have showers and lockers available. We'll have screens so people can watch TV while on the treadmill. We'll have all the equipment of a Gold's or Bally's gym - just not as much of it.
"And we'll still have tanning available."
In a theme the four owners continually stressed, Sean said the idea was to offer De Soto residents the amenities of the gyms in Johnson County's larger cities with a personal touch.
The name of the club is meant to give De Soto residents a feeling of ownership, and to relieve customers' stress , the owners won't push yearly memberships as is the practice of larger metropolitan health clubs, Sean said.
"We don't want people to be intimidated when they come in here," Brady said. "We want them to have a good relaxing workout. During lobby hours, people will be here to help them with the machines.
"Our motto is: Big enough to serve; small enough to care."
To realize that goal of providing a community club, the partners have stressed customer service they learned at the neighboring daycare. Members will be given a card that will allow them 24-hour access beyond the club's lobby hours of 6 a.m. to 8:30 p.m. Monday through Friday and 8 a.m. to noon Saturday.
In addition to the fully equipped gym, the club will offer coffee, cappuccino and smoothies in the lobby and a meeting room. And Brenda said the daycare would be open for parents in the evening.
"Parents can come in knowing their children have a fun and safe place to be while they workout,' she said.
The community has responded, the partners said. They've had more than 2,000 hits on the club's Web site, numerous phone inquiries and have sold a good number of pre-registrations.