DHS

Idol winners true originals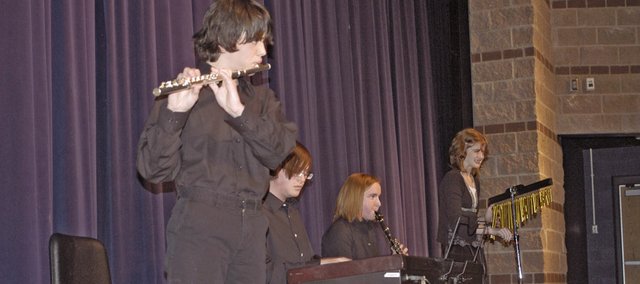 De Soto High School students Thursday proved not only could they perform music, but they could compose their own original piece as well.
The winner of De Soto High's talent show, De Soto Idol, was The Scott Ireland Project, a group comprised of four students who made their own music for fun and then decided to perform and compete in the talent show.
The group is led by percussion player Scott Ireland. The DHS senior played keyboards and was joined by freshman Tommy Strauser on flute, freshman Katie McKeirnan on clarinet and freshman Crystal Wolf on chimes.
The group initially started with two members, Katie said.
"It started out as Scott and me playing and then Tommy came in and started playing and we were like 'Oh this is really good,'" she said.
Scott said he was glad to have Tommy's talent added to the group.
"Tommy is really good with improv," he said.
Tommy showed off his improv skills during the talent show when he stood for his flute solo.
Crystal said she joined the group a few weeks before the talent show.
"They've been working on it for a long time, but a few weeks ago I randomly ran into the wind chimes, and Scott liked it so I ran across the room with the wind chimes," Crystal said.
Every seminar class period the group got together in the band room to practice the music. Instead of writing it all out by hand, Scott led the group phrase by phrase and they memorized it as they went. It was his first time composing music for other instruments.
For winning the talent show, the group received $100. Scott gets $50, Tommy $25 and Katie $25. Crystal insisted she not get a share.
"I didn't want any of the money because I didn't do much so I gave my share to Scott," she said.
After the show, the teens still were deciding what to buy with their winnings.
"I think I'll get a video game," Scott said.
The group was judged by a panel of administrators and teachers who scored each act on a scale of one to 10.
Second place was awarded to Cora Schimke for a dance performance. Lacey Erickson received third place for her vocal performance.
More like this story