Baiting the books
Library district lures children with computer games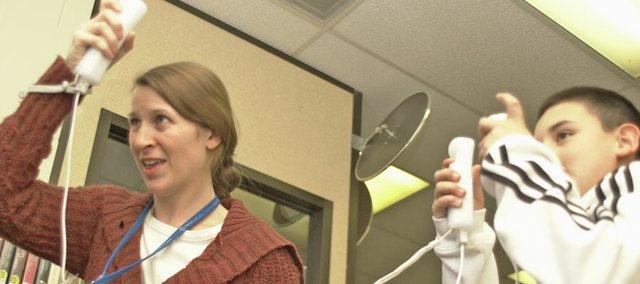 When Cari Albarelli visits the De Soto Library, you won't hear her telling youngsters to be quiet.
"We're happy to have them here," she said. "It's not always a quiet place."
As she does the first Friday of every month, Abarelli, a youth services specialist with the Johnson County Library District, visited De Soto Library Friday with the library district's Nintendo Wii. The interactive computer game-playing system that gets coach potatoes on their feet to box, bowl, play tennis and compete in a variety of other games of skill and pure luck. On the third Friday of the month, Albarelli, Olathe, brings an Xbox game to the library.
"We generally have 10 people here to play for our two hours," she said.
The action Friday was a little slow and for most of the time Albarelli went one on one with 11-year-old Alejandro Carlos of De Soto. The two boxed, bowled and ran through a gamut of games the system offers.
Albarelli was keeping a watchful eye for Christian Sanchez, who she said was the best Wii bowler at the De Soto Library despite his age. When he did show up, he told Albarelli he would join her after tending to other things at the library.
That was all part of the design, Albarelli said.
"Some of the kids switch off between here and the computers," she said. "They'll checkout a movie or a game. Hopefully, they'll pick up a book. It gives them another reason to come to the library."
And while Wii is fun, it requires children to read and follow directions, Albarelli said.
Part of the draw could be Albarelli, who greets the regulars by name and participates in game play with a childlike joy.
"I like the game," said the recently married Albarelli. "My husband got a Wii as a wedding gift."
Albarelli is enough of a kid to not purposely lose games to the youngsters visiting the library.
"Sometimes, you just have to learn that's how games go," she said.