Single-family home starts fall to seven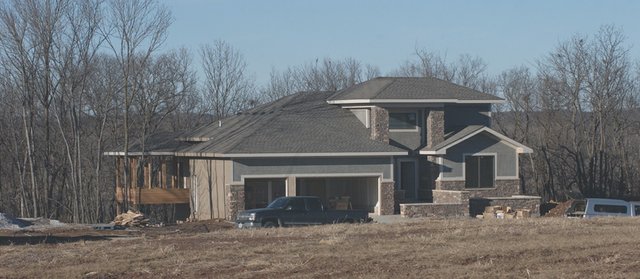 Being different didn't spare De Soto's housing market from sharing in the nationwide slump.
De Soto building and codes inspector Steve Chick said Monday the city issued seven permits for single-family homes in 2008. That is the lowest number in a decade and ever fewer than the 11 issued in 2007, the first full year the city saw the effect of the current housing downturn.
De Soto's peak housing start years this decade was 2002 and 2003 when 49 permits were issued each year. But even that number paled to those in De Soto's larger neighbors to the east and smaller communities in growth areas such as Spring Hill and Eudora, which saw triple-digit housing starts earlier this decade.
The reason, Chick said, was De Soto's market was always different.
"We didn't have many of the $180,000 or $190,000 spec homes," he said. "We didn't see much of the 'no down payment, anything to get you in a home' type of development.
"We had large-lot development with people who knew what they wanted and had planned for it."
Consequently, there have been few mortgage foreclosures in De Soto. City Administrator Pat Guilfoyle said information shared at an April meeting conducted by Kansas City, Mo., U.S. Reserve Bank officials indicated the foreclosure rate on De Soto home mortgages was from .5 to 1 percent and predicted only mild risk for foreclosures in the future.
The same report indicated sub-prime loans, one of the root causes of the foreclosure crisis, were rare in De Soto.
This year's single-family home starts includes a permit issued Monday for the Timber Lakes subdivision, which leaves three lots left in that west De Soto development. Chick said the subdivision should build out in the coming year.
Two subdivisions or developments, Timber Lakes and Oak Country 8, became active in the last year, joining Arbor Ridge, which remains in its first phase.
All three of those developments will continue the De Soto pattern of custom homes, Chick said.
With a sewer system development fee of $2,500 charged every new home hooking to the city sewer system and a $3,000 charge to those connecting to city water, the city has seen a significant reduction in revenue earmarked for capital improvements to the two utilities with the decline in housing starts.
Before a 2007 refinancing of the city's bonded indebtedness, the dismal housing market could have caused concern to the new wastewater plant. However, Guilfoyle said the debt restructuring removed that concern.