The best of 2008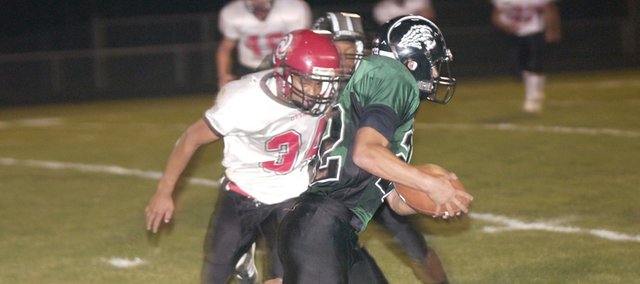 No. 1
Cats run to playoffs in '08
Take away the first four games and the final two games of the season, and the 2008 De Soto High football team showed what could be.
De Soto's four wins — sandwiched between four-game and two-game skids — catapulted the Wildcats to the playoffs for the first time in four years.
"I think we had a good year," De Soto coach Brad Scott said. "We made a lot of strides. We closed the gap from where we were the year before and where we were this year. We were in a lot more ball games. We got blown out by the better teams last year, and we pretty much battled every team on our schedule this season."
The Wildcats (4-6) were beaten by Gardner in the season-opener and then lost to Eudora and Louisburg on last-second field goals the following weeks. The Wildcats then lost a 14-0 battle against Baldwin to start the season at 0-4. But the Wildcats fought back and ended the losing streak with a road victory at Paola.
"That's frustrating to be close and not win," Scott said. "But at the same time that's a testament to our kids and I think it's a testament to our seniors. We never stopped believing or trusting each other.
"Then we go out and beat a team that goes to the state quarterfinals in Paola for our first win at their place on homecoming, which is probably our signature win this season and we took off from there."
No. 2
Cross country teams run to top-5 finishes at state
De Soto cross country coach Chris McAfee was a little down about his girls team's second-place finish Saturday. That is, until he took a glance at a few other coaches.
"I was a little disappointed when the race was over," McAfee said. "But a lot of coaches were sitting there like, 'I'd trade spots with you in a heartbeat.' So that kind of put me in my place."
The Wildcats had finished No. 2 at the state meet for the second consecutive year with 96 points. Baldwin took first with 46 points.
De Soto was able to bring home a trophy. It was the third-straight year the Wildcats placed in the top-3 at state.
The De Soto boys cross country team finished fifth at the Kansas 4A state meet Saturday.
Mulvane finished in first-place, while host Wamego came in second-place.
De Soto's Trey Lind finished 19th with a time of 17:20 and Austin Hinchey finished 30th at 17:37.
"We would have had to run the absolute best to bring home a trophy, but that's just not what happened," said De Soto coach Chris McAfee. "That's about what I thought we'd be at.
"Being in the top five, we're happy with that."
No. 3
Lindbloom ends career with fourth medal at state
Hana Lindbloom didn't take home that elusive first-place medal, but she walked off the court a winner.
Lindbloom and partner Suzie Gulley finished their season earning fifth-place medals at the state tennis meet Saturday at Lawrence. On Friday, the duo won their opening match but fell in three sets in the quarterfinals to Colby, the No. 1 seed and eventual state champion.
On Saturday, Gulley and Lindbloom won three straight matches to finish fifth.
"We took the top seed to three sets, and the first-and second-place match are two teams that we played virtually neck-and-neck," De Soto tennis coach Michael Sullivan said. "So I think even though we placed fifth, I think it's safe to say that we're a top-3 team."
Lindbloom made state in doubles play the previous three years, finishing third once and second twice. For Gulley, it was her second trip to state and her first time winning a medal.
"It's not what we wanted," Lindbloom said of the fifth-place finish. "But for me, I started my career on a win at state and now I finish on a win. And you know, sometimes that's better than losing your last high school match."
No. 4
Boys soccer wins first league title, falls in regionals
The threat of a post-game training session lit a fire under the De Soto boys soccer team. Then it lit up the scoreboard in mid-October against Eudora.
The Wildcats were leading just 2-0 at halftime against the winless Eudora Cardinals, but De Soto coach Darren Erpelding was not pleased with his team's effort. He warned his team that a repeat of its lethargic first half would earn some additional exercise should things not improve in the second frame.
"He told us we needed to talk and communicate," said Brett Hevel. "If we didn't talk we were going to have to run after the game. And we didn't want to run. That'd be embarrassing."
Erpelding's threat worked.
The Wildcats controlled the second half, scoring three goals in a five-minute span on their way to an easy 5-0 win against Eudora. The win clinched the Frontier League championship for the Wildcats.
"It's the first league title in the history of our program," Erpelding said after that game. "This is the first one, so that's really nice to have."
While the Wildcats won their first league title, history repeated itself a couple weeks later when St. James ended De Soto's season in regionals with a golden goal in overtime, clinching the 1-0 victory.
"Nothing I ever say to them right now is going to make them feel any better, especially the seniors," Erpelding said. "I can sit there and say all sorts of things but right now it won't matter."
Despite not reaching the state tournament, the Wildcats still had one of their best seasons in school history, if not the best. They captured their first Frontier League championship after amassing a 12-1-1 league record, and their 13 regular-season wins is the most in school history.
No. 5
Scott steps down as DHS coach
For the first time in nine years, De Soto High School is looking for a new head football coach.
Brad Scott announced that he was stepping down as De Soto's football coach because of family reasons.
"The big thing for me was I felt like I wasn't as happy a person at home as I usually am," Scott said. "And I'm not going to make my family have to deal with the stresses of my job when I get home. I want to be able to forget about that stuff and just be a good dad and a good husband and I felt like that was really a conflict and I needed to do something about that. So I made the choice that was right for me."
Scott said his family will remain in De Soto and he would continue teaching at the high school. He also said he would still like to help the football program in some capacity.