Getting stronger
Two Cats medal at
JOCO

tourney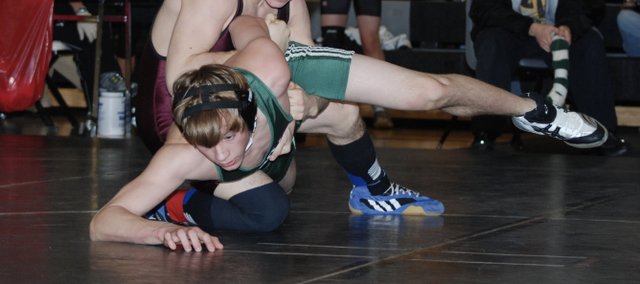 It wasn't quite the finish place-wise that De Soto wrestling coach Shannon Sawner hoped for in the Wildcats last match before Christmas break.
But despite De Soto's last-place showing last weekend at the 20-team Johnson County tournament at Blue Valley High School, Sawner said his team had steadily improved since practice began a month ago.
"I think we're still getting better," Sawner said. "We tripled our points from last year's tournament and we had three wrestlers make it out of pool play."
De Soto's Donny Parr, Brandon Vukus and Hunter England were the three Wildcats who made it out of pool play. Parr took home sixth-place in the 160-pound weight class, Vukus also took home a sixth-place medal in the 152-pound weight class.
"They had some tough kids and some tough matches," Sawner said of Parr and Vukus. "They had some kids on their backs a few times and didn't finish them off. That's kind of the good and bad of wrestling."
England, who wrestled in the 135-pound weight class, advanced out of pool play but did not place at the two-day tournament. Gardner Edgerton won the tournament with 224.5 points, Blue Valley Northwest finished second with 199.5 points and Blue Valley West finished third with 194 points.
De Soto totaled 34.5 points at the tournament but that number could have been better if the Wildcats had more than three wrestlers advance out of play. But Sawner was encouraged by his team's showing and was looking forward to when De Soto has more wrestlers go deeper in tournaments. And Sawner said that could be soon.
"All of our guys keep getting better and I can see things in practice getting better," he said. "I think we need a little more time and a little more repetition. It's not second nature what we're doing yet."
Sawner said it was a good time to take a break because the team needed a little time to rest. He said the team would get in about 10 practices before its next match Jan. 10 at Burlington.
More like this story