Countdown of De Soto's top stories of 2008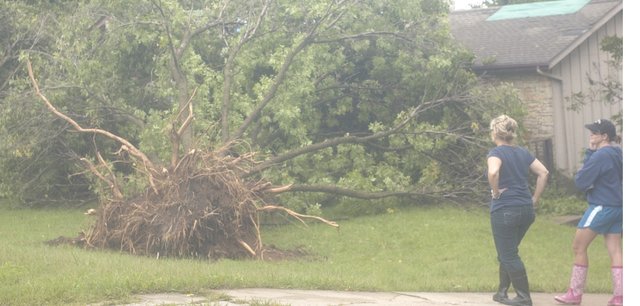 No. 10
March 12, 2008
For Duane Clay, the discovery of a body in the East Bottoms last week recalled an earlier murder.
Clay's home in the swallowed-up community of Cedar Junction is the last on Corliss Road before it crosses the Burlington Northern Santa Fe Railroad tracks and flattens out on the Kansas River flood plain. It was at an isolation spot near where the road meets the river that the body of a 24-year-old Penny Tyler was found March 14, 2000.
The Johnson County Sheriff's Office later determined Tyler, who was last seen alive on Independence Avenue in Kansas City, Mo., had been murdered. The case remains unsolved.
On the morning of March 5, employees of the Olathe water treatment plant found the badly burned woman's body on the access road to the boat ramp near Gardner Road and 83rd Street. The city of Olathe annexed a well field, which is surrounded by the city of De Soto, west of Cedar Creek and south of the Kansas River. The site is about a mile away from where the Tyler's body was discovered nearly eight months earlier.
The Olathe Police Department later identified the woman as 37-year-old Tammy K. Cochran. The woman was said to have moved frequently in the Kansas City metropolitan area.
The body appeared to have been recently burned, Olathe police said. The death is being investigated as a homicide.
No. 9
April 29, 2008
A body found Monday in the Kansas River in Wyandotte County has been tentatively identified as Shaun Shaw, a missing canoeist, according to the Douglas County Sheriff's Office.
The body was taken to the coroner's office for examination, Sheriff's Lt. Kari Wempe said.
The body was discovered at 8:40 a.m. near 78th Street and Holliday Drive in Kansas City, Kan. Douglas County officers responded to the scene along with Kansas City police. An investigator from the coroner's office also went to the site to try to make an identification.
Shaw, 26, of De Soto, had been missing since April 19. He was in a canoe with two friends when it capsized a mile and a half east of Eudora.
They had been hunting for mushrooms as they floated along the Wakarusa River when they ran into rougher water on the Kansas River.
The Kansas Department of Wildlife and Parks along with several local and regional public safety agencies conducted a weeklong search.
The sheriff's office will wait for a complete report from the coroner's office before concluding its investigation, Wempe said
More like this story