Too close for comfort
Game closer than final score shows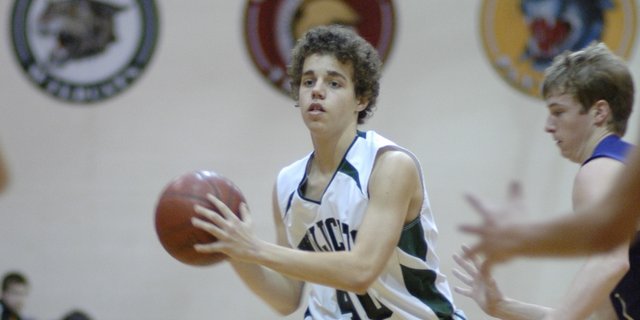 The lopsided score shows a decisive De Soto win. But even with a double digit lead, De Soto coach Jim Bonar never felt comfortable in De Soto's 64-46 win last Thursday at Maranatha.
"We kept adding but it was never an actual pull away type game where it was well under control," Bonar said.
A close game for a half, De Soto gradually wore down Maranatha in the second half. Jamel Townsend was responsible for much of that wear and tear as he led De Soto with 17 points and nine rebounds.
"He was cleaning up everything that did come off the rim," Bonar said. "A big part of that was he ran the floor well. We got him the ball a few times for some easy scores, but he does a lot of dirty work for us."
While Townsend was strong inside, the Wildcats were also successful from behind the arc. De Soto sank seven three-pointers in the game.
De Soto's sharp shooting from the perimeter has been a constant this season for the Wildcats. At the Hays City Shootout De Soto hit 11 threes in one game, and Bonar said he looked for the team to hit about that number every game this season.
"I think anywhere between seven and eleven would be about the average for us," Bonar said.
Leading De Soto's perimeter attack this season has been Tommy Elmer and Brendon Hudson. Elmer hit for threes in a game at Hays, and Hudson hit three in a game at Hays. Hudson also chipped in 12 points against Maranatha and had just one turnover.
"He did a good job," Bonar said of Hudson. "He's in a leadership role. That's good to know that he controlled the ball and controlled the offense like that."
Brandan Philbrook added 11 points for the Wildcats, who also kept their turnovers down. De Soto totaled just seven in the game.
Bonar said taking care of the basketball was crucial, especially when the game was still close.
"There were several times where Maranatha could have hit a shot or two and if we would have had a turnover or something like that it would have bee a lot closer than what it really was," Bonar said.
Tuesday night's game against Anderson County were postponed because of bad weather. De Soto will play Friday at Atchison in its last game before Christmas break. De Soto will return to the hardwood against K.C. Piper Jan 6 at De Soto.