Three Cats place at
EHS

tournament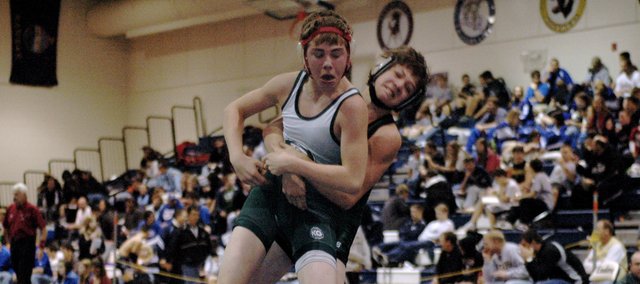 Three De Soto Wildcats advanced out of pool play at last weekend's Eudora Tournament of Champions in Eudora.
Todd Atchison finished the two-day, 24-team tournament sixth overall in the 119-pound weight class and his brother, Zack Atchison, finished seventh in the 125-pound weight class. Donny Parr also took home a fifth-place medal in the 160-pound weight class.
"We wrestled well," De Soto coach Shannon Sawner said. "We're happy but we want to get better."
Sawner said that even though Zack Atchison was only a freshman, he had already shown improvement since the start of the year. He also said there might be a little sibling rivalry with the two brothers.
"Zack, I think he's starting to figure some things out," Sawner said. "And there might be a little family competition there, too."
Parr, who wrestled during the offseason, defeated Jeremy Elliott of Tonganoxie to take home fifth. Sawner said Parr's work over the summer was key to his early season success.
"I think some of those things are starting to pay off for him now," Sawner said.
Lansing won the tournament with 322 points and locally Baldwin finished seventh, Eudora 13th and De Soto 22nd.
The Wildcats are wrestling this year with more than 20 freshmen on the roster. One of them, Hayden Chandler, went 1-3 in pool play and did not advance into the winner's bracket.
Chandler said the competition last weekend at Eudora was the best he had ever competed against. Chandler said that the biggest challenge for him at the tournament was wrestling against seasoned veterans.
"When you're wrestling juniors and seniors that have a lot more experience than I do, it was tough," Chandler said.
Sawner said the team had steadily improved over the first few weeks of the season but added it still had areas it could improve.
"We're making small steps," Sawner said. "But we're not done working yet."
Next up for De Soto is the Johnson County Tournament Friday and Saturday at Blue Valley High School.
More like this story