Postseason awards pouring in for De Soto lineman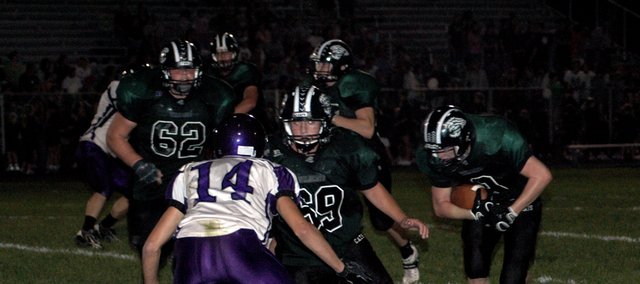 De Soto senior offensive lineman Mike Sprowl said before the season started he didn't know about some of the high school postseason awards that have been coming his way.
But since the season ended, he knows all about them.
Sprowl has been honored with first team all-state offensive line, first team Kansas Coaches Association, first team all-area and all-league offensive line and was an honorable mention pick at defensive line. He has also been nominated to play in the Kansas Shrine Bowl.
"It feels pretty good, actually," Sprowl said of his postseason accolades.
Sprowl's head coach, Mike Scott, who announced two weeks ago that he was stepping down as De Soto's coach, said Sprowl was one of most talented football players that he coached at De Soto.
"He's had arguably the best year of any offensive lineman we've had here," Scott said.
Scott noted that often times Sprowl would flatten the opposing defensive lineman early in the game. Scott said the team took notice of that and played with more energy after one of Sprowl's many pancake blocks.
"Mike's one of those kids that he's so physically gifted," Scott said of the 6-foot-1, 295-pound lineman. "The thing about Mike is he didn't just block he finished blocks."
Sprowl said that the postseason recognition was nice but he credited his success to his former coach.
"He's been there for me from the start," Sprowl said of Scott. Sprowl added that when Scott told the team he would no longer be the coach, many of his teammates became very emotional.
"Some just instantly broke into tears," Sprowl said. "I've known him my whole high school career and I wouldn't be where I am without him."
With his De Soto football career now over, Sprowl is working to stay in shape and is hoping to continue his football career in college.
Sprowl said he had been received recruiting letters from local colleges and junior colleges. He said Pittsburg State wanted him to make an official visit, and Sprowl said that probably wouldn't be his only one.
"I'm sure there will be more," he said.
More like this story