Girls top Maranatha for first win of year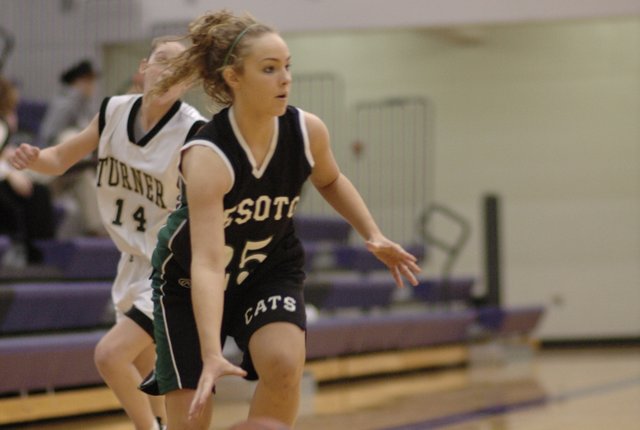 This time when the final buzzer sounded De Soto walked off the court winners.
Coming off a last-second loss to Colby at the Hays City Shootout two weeks ago, the Wildcats had a week until their next game. The layoff didn't affect the Wildcats, however, as they thumped Maranatha, 51-30, last Thursday at Maranatha.
De Soto coach Dwight Spencer said it was the best his team played so far this season.
"We played really, really well," Spencer said. "We just played together probably as much as we have all year. We had a lot of good performances. It was a good team effort, really."
Kelsey Fisher led the Wildcats with 20 points, and Shelbi Petty added six points, six assists and eight steals on the night.
"Those are pretty good numbers from a point-guard and I'll take those," Spencer said. "I know she's going to score for us at times, too, but I'll take those numbers anytime."
Amber Laudick and Katie Williams both controlled the glass for the Wildcats against Maranatha. Williams finished the night with eight boards, but Spencer said he would like to see that number rise.
"We need to have her (Williams) probably do a little bit better," Spencer said. "And Amber Laudick does a nice job on the boards, too."
Williams is about 5-foot-10, and Laudick is about 5-foot-7. Despite being shorter than other players in the paint, Laudick pulled down 10 rebounds in a game at Hays.
"Both of those two are giving us some help on the boards, but we're a small team and we really need it from every single position," Spencer said.
Spencer said if the team could get a few more rebounds each game it could boost the team's offensive production. Fisher and Petty have proved to be good shooters, and Spencer is looking forward to when the whole team is firing.
"We're still waiting for that night when I get all my shooters going at one time," Spencer said. "And then if we throw Katie (Williams) at them inside that's really going to open it up for us.
"If we get Tami Crow, Shelbi Petty and Kelsey Fisher all hitting on the same night, we'll put some points on the board. I'm just kind of waiting for that to happen."
Tuesday night's game against Anderson County was cancelled because of weather. Next up for De Soto is a road game Friday at Atchison. It will be the Wildcats' last game before Christmas break. The Wildcats will return to action against K.C. Piper Jan. 6 at De Soto.
More like this story