Investigators seeking help in
ID

'ing robber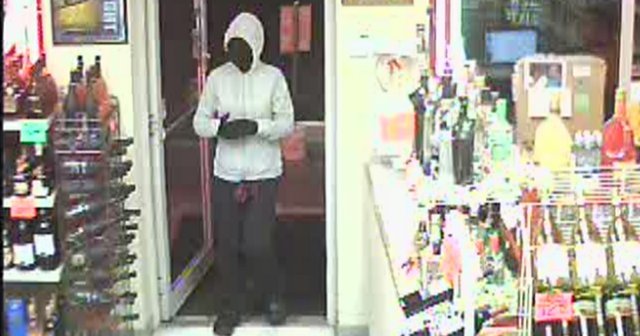 Johnson County Sheriff's Office investigators are asking of help in identifying the person responsible for a robbery last week in De Soto.
At about 8 p.m. Dec. 9 an individual entered Mike's Liquor Store, 9160 Lexington Ave., and passed a note to the clerk demanding money. The clerk gave the person an undisclosed amount of money and the suspect left. No one was harmed in the robbery.
The store's video camera filmed the robber. However, the suspect was wearing a hooded grey sweatshirt, black glove and a ski mask.
Johnson County Sheriff's Office spokesman Tom Erickson said although the suspect appears to be a female, the robber's gender, race and age were effectively masked. The individual was described as about 5-foot-5-inches tall and weighting about 100 pounds.
The sheriff's office is asking for information from anyone in the vicinity of 91st Street or Lexington Avenue near the time of the robbery who might have seen something — a vehicle or person — that could help identify the suspect, Erickson said. Anyone with information about the incident should call the Johnson County Sheriff's Office at 913-791-5560 or the TIPS Hotline at 816-474-TIPS (8477).
Mike's Liquor Store has been robbed two years ago in very similar circumstances. In April 2006, an individual described as a black female about 5 feet 6 inches tall, entered the store one evening retrieving a six-pack of beer from the cooler. She then walked to the counter where she handed a crumpled note to the clerk, indicating she wanted money from the cash register placed in a bag. The clerk complied and the suspect then requested the money from the cash box.
No arrest was made in the previous robbery.
More like this story