De Soto High School musician vying for seat on
U.S.

Air Force Band.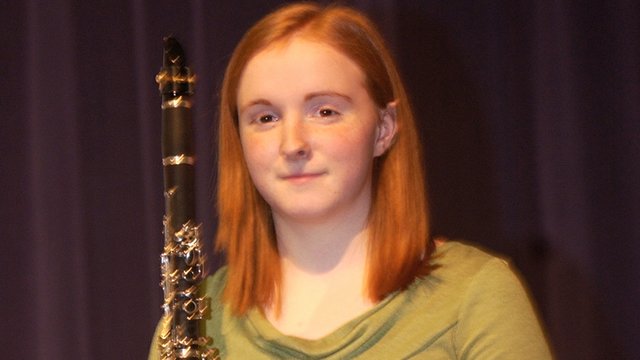 Katie McKeirnan said its voice explains her six-year love affair with the clarinet.
"I just love the sound," she said. "It's so versatile. You can go so low, but then you can go so high.
"It imitates the human voice so well. A lot of clarinet pieces are so operatic. It's telling a story, almost like it could speak."
The instrument apparently speaks very well for Katie. The De Soto High School sophomore was selected as one of four high school musicians to compete for a chance to play an engagement with the U.S. Air Force Band.
"They alternate every year between brass and woodwinds," Katie said. "This year was a woodwind year."
Katie said De Soto High School band instructor Dan Freeman suggested she enter the competition.
"I looked at the music and said, "This looks doable," she said.
Freeman said Katie made the finals through her practice and hard work.
"I told her about it, and she went after it," Freeman said. "That she's a finalist in a national competition is pretty impressive. That's she's the youngest makes it all the more impressive.
"I knew she was capable. It wasn't a surprise when we learned she was a finalist; it was 'It is happening.'"
The competition was open to high school sophomores, juniors and seniors. Katie was the only sophomore selected and will compete against one junior and two seniors.
The selection music looked doable to Katie because it was Carl Maria von Weber's "Concertino," She successfully auditioned her freshman year for the John Phillip Sousa Honor's Band with the same work by the 19th century composer.
Katie said her private part-time instructor, Kansas University professor Stephanie Zelnick, helped her with the piece. Zelnick also arranged for Katie to make a CD at a KU recital hall with an accompanist that served as her entry for the competition.
With her selection as a finalist, Katie will travel Jan. 6 through the 9 with her parents, Bill and Linda McKeirnan, to Washington, D.C., to audition for the place on the band. If she wins, she'll get a one-time performance with the Air Force Band in February, she said.
Katie, who plays in the school's marching band, jazz band, pep band and in the orchestra for the fall musical, said pursuing a musical career was "definitely a possibility."
The competition would serve her well, Freeman said.
"This is great résumé builder," he said. "It's a great résumé builder for a lot of things."
More like this story