Cats take two
Boys win twice, finish 2nd at Hays City Shootout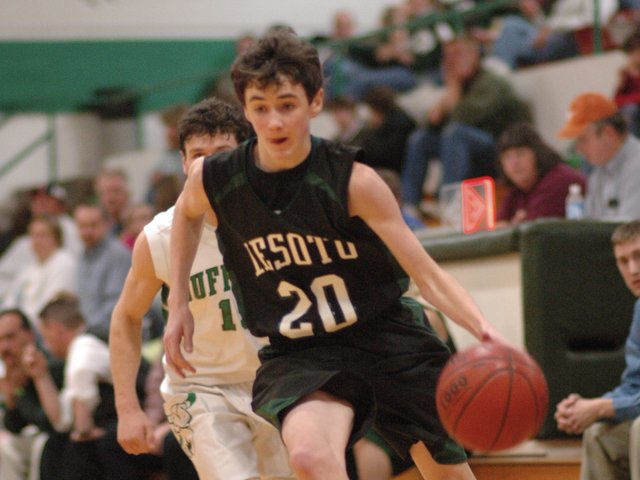 When the De Soto boys basketball team left for Hays last week, coach Jim Bonar didn't know what to expect from his team. His team had a number of nagging injuries that slowed the team the first few weeks of practice.
"We went down there really not knowing how good we were," Bonar said.
Upon returning to De Soto, Bonar said his team could be pretty good this year. In the opening round game, De Soto defeated Hays, 60-41. De Soto dispatched Newton 60-46 in the second round but fell to Great Bend 64-47 in the championship game.
Against Hays, De Soto out-rebounded Hays 31-22 and went 16-22 from the free-throw line in the fourth quarter to preserve the win. The Wildcats also went 3-for-6 from the three-point line in the opening round game.
"In practice we had been shooting way more threes than that, but Hays had three pretty quick guards who kept putting pressure on us and we didn't get the open looks like we thought we would get," Bonar said. "But we played really well inside."
It was the first time Hays lost in the first round of the season opening tournament in 14 years, and Bonar said his team was excited to be playing in the second round game, considering last year De Soto went 0-3 at the tournament.
Brandan Philbrook scored 17, Tommy Elmer had 11 and Brendon Hudson had nine to lead De Soto against Hays.
"It was quite an event," Bonar said. "I thought we controlled the game from the tip and we were never behind in the game."
Against Newton, De Soto used some sharp-shooting from the three-point line to take a 14-point win. Bonar said Newton was a strong and physical team that had a good inside game, but De Soto went 11-21 from three, scoring more than half its points from behind the line.
"That's a big deal for us there," Bonar said. "That's kind of the way we expected it to be going."
De Soto also had 19 assists in the game.
"We were really swinging the ball and guys kept getting open looks all night long," Bonar said.
Leading De Soto's barrage of three-pointers were Elmer with four, and Hudson and Philbrook each hit three threes.
"We've got five or six kids who can hit it up," Bonar said. "We'll have two or three guys on the court at all times who can stretch the defense out and get the ball inside."
Against Great Bend in the championship game, De Soto led by three at the end of the first quarter and trailed by two at the half. But tired legs slowed the Wildcats and the game soon got away from them.
"We had to come out and start doing things we didn't want to do in the first place that wasn't in our game plan to try to get back in and we ended up getting beat," Bonar said.
De Soto's tired legs likely came from having to play the late games. Bonar said Thursday and Friday, the team didn't get back to the hotel until after midnight.
"We were really happy just to be in the game for that long with the odds that we were facing," Bonar said.
Philbrook and Jamel Townsend both made the All-Tournament team. Townsend had 13 points and 11 rebounds against Newton and had eight points and 12 boards against Hays.
"He's reliable," Bonar said of Townsend. "He's got a nose for the ball and he's always going to the boards. He's not the biggest guy, but he finds away to get them."
Next up for De Soto is a Thursday night game at Maranatha.