Defense still the strength, but faster offense will help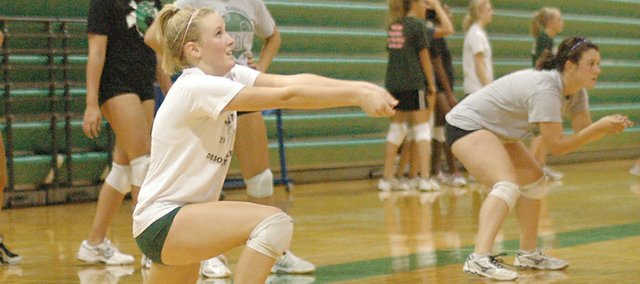 Coming off a 5-29 season, one may question the optimism of the De Soto High volleyball players.
But for the seniors, this year will mark the first year in their careers when they will not be playing for a coach they are unfamiliar with. That, coupled with the fact that the team didn't lose a single player off last year's squad has senior Carlie Burnett thinking better things are in store this year.
"One of our big goals should be building off the team we had last year since we didn't lose anybody, and just coming together and having, hopefully, a better record than we did last year and just improve as a group," Burnett said.
This year the Wildcats boast three seniors, all with experience at the varsity level. Coach Jenny Barnhart echoed Burnett's sentiments when discussing goals for the year.
"To continue to progress, and not just for this team but for the program as well," she said. "Last year we finished at the bottom of the league, so just climb the ladder, that's really what we're looking for."
In order to climb that ladder, players and coaches said a lot of hard work was invested during the summer. That, and a couple of adjustments to the style of De Soto's play will be what the hopes of a better 2008 season hinge upon.
The Wildcats look to switch from a 4-2 formation to a 6-1, meaning rather than have two setters on the court like last year the team will only have one.
That one setter position, at least in the early going, looks to be nailed down by junior Tami Crow, one athlete that Barnhart and Burnett agreed had a productive summer.
"Tami Crow has worked a lot this summer and she's improved so much, she's gotten so much better which I really think will help us put our team together as a whole since our setter has improved a lot," Burnett said.
Barnhart agreed with Burnett, and said Crow developed the ability to set lower and to different spots over the summer, which is one part to speeding up the offense and a main focus during the summer.
"I'm really looking forward to that, instead of being such a slow offense where the blockers can line up on us, we're definitely going to have a faster offense," Barnhart said. "Not only her (Crow) but our passes will be a lot lower."
The strength of the team last year was undoubtedly the defense, anchored by all-league selection Jordin Burford. And, although adjustments are being made to speed up and development a more potent offense, Barnhart said the defense is still the anchor.
But Burford said she'd noticed significant changes over the summer that suggested the offense would hold its own this season.
"We worked all summer, just working to where we're jumping higher and we're getting the ball down and how our arms should be swinging," Burford said. "I really think our offense is going to turn around. It's quicker, to where we get a lot more different variety off our sets."
Once those sets are in the air, it could be up to a wide range of individuals to pound them down to the court.
Top returners on the left side are Danielle Price and Burnett. Laura Lambert led the team in kills a year ago with 88 even though she missed the final two weeks of the season. Brittany Brewer, a sophomore, also should see time as she had a strong summer in the eyes of both Barnhart and Burnett.
"Her strength is just really impressive. She can power hit right through the block," Barnhart said. "She's done it many times over the summer and during tryouts."
Jessica Dailey and Amber Laudick - the second setter a year ago and a player Burnett and Burford called one of the strongest hitters - are two other players Barnhart expects to spend time hitting down on balls from above the net.
All the options are something the coach looks at as somewhat of a luxury.
"Right now, I really don't have a set varsity or JV," Barnhart said. "Luckily, we don't have to because we don't play this week or next even, so definitely we have some time for some girls to be plugged in to different situations."
The Wildcats' first outing, a four-team quad with De Soto, Bishop Seabury, Maranatha and Atchison, starts at 5 p.m. Sept. 8 at home. Last year the team opened up 2-1 against the same opponents and hopes to be ready to do the same this year.
"Hopefully we expect to win," Burford said. "We've been working really hard at practice - everybody, not one person slacks off. So hopefully we'll be ready."
More like this story