Good fit all around
De Soto Multi-Service Center intern's skills provides immediate help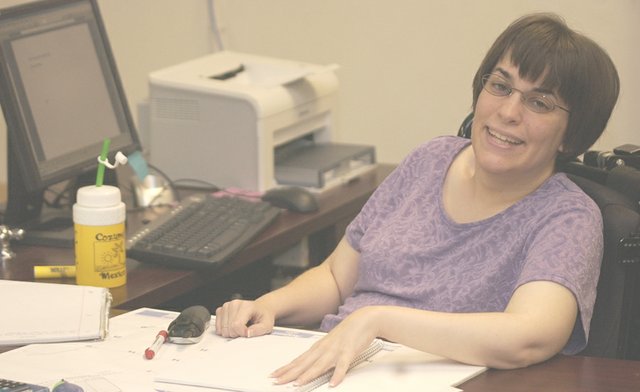 Holly Dankenbring didn't get the opportunity to ease into her internship at the De Soto Multi-Service Center.
"I just threw her out there," De Soto Multi-Service Center director Jodi Hitchcock said. "We were so busy I don't think I had a chance to talk to her that day."
"She came with so many skills - unlike some of my students. She's had so much experience."
Dankenbring started her internship Aug. 18, which coincided with the back-to-school rush at the center.
"Last Monday, we were so busy I didn't have time to think about what was going on," Dankenbring said. "I was exhausted when I got home."
The busy office is OK with Dankenbring. She enjoys being in the frontline of social work, a career she was drawn to from personnel experience. The 29-year-old Dankenbring was born with cerebral palsy.
"I did a lot of different things growing up," she said. "As a disabled person, I had a lot of people help me. And my parents did a pretty good job of encouraging me to be independent."
She's now a graduate student at Washburn University, commuting to that Topeka school from her home in Olathe. And as Hitchcock said, she does bring a lot of experience to the internship.
After getting her bachelor's degree from Kansas State, Dankenbring worked two years at the Independent Resource Center, which advocates for people with disabilities and points them to resources for independent living. She then became independent vocational rehabilitation counselor and volunteered with another social service agency for four years.
In January 2007, she started work on her master's degree in social work at Washburn.
Dankenbring gives the De Soto Community Center high marks of accessibility. And her desk, she said, was low and therefore right for her.
"Everybody has different accessibility needs," she said. "Height can be a barrier to me at some job environments. At home, everything is at my level."
It would seem Dankenbring is a natural fit at the De Soto center. Hitchcock said has been meaning to touch on some specifics of the De Soto post to augment her intern's well-grounded basics, but they have been too busy.
"I still mean to do that," Hitchcock said Monday. "We'll do that tomorrow."
As for the future, Dankenbring said she wanted to work with women.
"I want to encourage women to have self-worth and value," she said. "It's how God views them - how they are able to love despite what they go though in life.
"Many women struggle with self-worth because we are so giving of ourselves to those around us. The focus is always on other people; we don't really focus on ourselves."