De Soto City Council buys closed gas station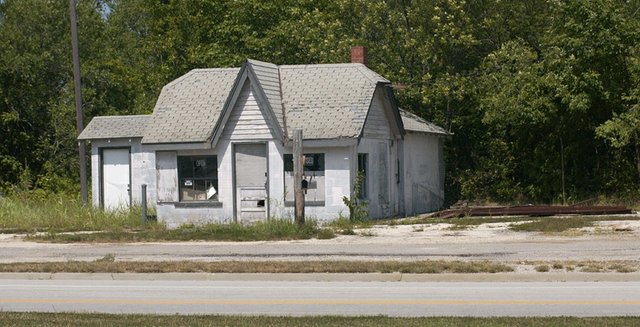 The De Soto City Council voted last Thursday to end its frustration with inactivity with the closed gas station at 83rd Street and Kill Creek Road by voting to purchase the property for $82,500.
After that vote, the council asked staff to prepare an ordinance allowing the use of the city's electrical utility fund to buy the property.
Mayor David Anderson said the city had no plans for the property other than razing the long-closed gas station. Council members have made frequent comments about the unslightly structure at one of De Soto's key entry points.
There was considerable interest in the building, with perspective buyers coming to the city planning staff with proposals to convert the station into such things as an office, flower shop or coffee shop.
However, city engineer Mike Brungardt said the would-be buyers soon lost interest when they learned the old septic tank was inadequate and because the .38 acre property was too small for a new septic system a sewer line would have to be extended to the property at an estimated cost of $35,000.
Sewers were not the only problem a prospective buyer would have to overcome to make the property viable for redevelopment. The property extends only 60 feet north of 83rd Street, meaning a developer would have had to acquire a set-back variance if any change to the gas station's footprint was planned.
Although the city has no immediate plans for the property, its acquisition would be required for right-of-way should the city construct a roundabout at the Kill Creek Road/83rd Street intersection, as has been discussed.
The city does have a set of plans showing a roundabout as well as other improvements to 83rd Street draw when it was looking to piggyback on the improvements Arbor Ridge's developers will be required to make in the future. The city's $5 million pricetag for those improvements ended that consideration and a roundabout at the intersection, which Brungardt said would cost about $500,000, is not on the city's five-year capital improvement plan.
However, a signal or roundabout will eventually be needed at the intersection. The plans show the right-of-way needed for a roundabout extending to the doorstep of the gas station. Brungardt said the city already owns the needed right-of-way to the south of the intersection.
More like this story