Elementary going green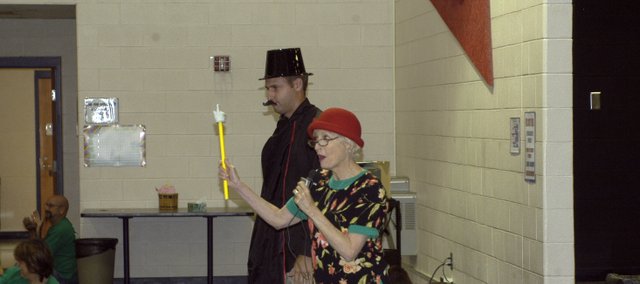 Starside Elementary School has added one school color this year - green.
Teachers and staff welcomed students back to school Monday sporting green T-shirts announcing Starside's new green initiative.
At an assembly later that day, English as a Second Language teacher Elyzabeth Navarre dressed up as Mother Nature to teach the students about recycling.
"Remember our Earth Day garage sale?" Navarre asked the students. "This is even more than just that."
At the Earth Day garage sale, students recycled their unwanted toys and books by donating them to the garage sale for other students to purchase. The money went toward restoring the Starside pond on the north side of the building. Students also recycled their soda cans they purchased during the sale.
Navarre said recycling was also about the respect pillar, one of the character pillars the school focuses on.
"This is about respecting our planet," she said.
Starting this year, students and staff will be able to recycle more than just paper and aluminum cans.
Blue recycling buckets will be placed in the school where students can bring in empty cereal boxes or milk jugs to plastic containers with a 1 or a 2 can be recycled.
Starside counselor Paula Henderson said doing more recycling was the students' idea.
"After we did our Earth Day garage sale and recycled so many cans, they asked if we could do more recycling," she said.
In addition to the bins placed throughout the school, parents now have the option to "go green" by signing up for an electronic school newsletter, which would save paper and ink.
At the assembly, Navarre tested some of the students on their knowledge of what they could and couldn't recycle at school.
Navarre also asked the students how many students recycled at home.
"A nice number," she said to the several who raised their hands. "We want to see all the hands up by the end of the year."
During the assembly the De Soto High School Diamond Dance Team performed a routine for the students, along with a chant "Starside, go green."
Dora Do and Donnie Don't also visited the assembly. Dora Do, played by Vergie Opdycke, instructed Donnie Don't, played by Andrew Elliott, on the proper way to recycle.
"Oh no Mr. Don, not in the trashcan," Opdycke said. "Put that in the recycling bin."