Does it get any better?
Runners-up on girls side and third on boys, cross country trying for duplicate '08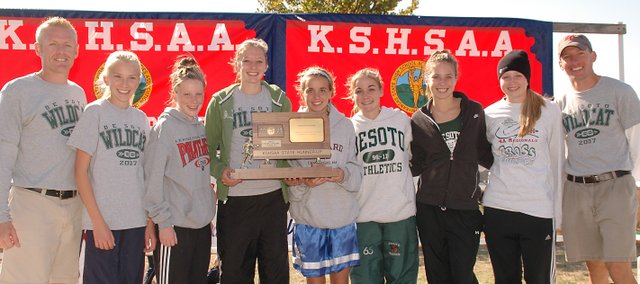 One might think that after a second place finish at state, and with De Soto's top competition losing a number one runner, the road would be a downhill coast to the state title for the Wildcats girls cross country team this year.
That person would be wrong according to coach Chris McAfee. The Wildcats, in his eyes, are still going to be locked in a battle with Baldwin meet in and meet out, despite Baldwin graduating state champion Heather Garcia.
"Everybody is going to look at them and go, 'Well, Heather (Garcia) is gone, so they're going to be down,'" McAfee said. "But they are really good. That's the only person they lost. They bring back six girls off that team."
De Soto, in it's own right, returns six of seven girls that ran at state and four of seven on the third-place boys team, so there's a little more reason for optimism with the defending state runners-up. But there are obstacles to overcome.
Although Chesney Burgweger was the team's number seven runner at state, her and Trish Roberts - who was part of the 2006 state championship team and ran much of last year before injury ended her season - provided the leadership that seniors typically provide.
"Losing them as far as leadership goes, that hurts," McAfee said.
But in Roberts' place the team added Ellie Sheridan, a sophomore who competed well for much of the track season in the 1,600.
"We pick up Ellie Sheridan, who probably right now is our number one girl," McAfee said. "She's definitely a quality runner."
Close behind Sheridan is junior Carly Stanley, the top runner for most of last year and an athlete McAfee said was pretty close behind Sheridan, causing him to believe De Soto could rotate the label of who is the number one. That label could even depend on who's the best on a given day. Follow that up with Lacey Erickson, who finished 10th at state a year ago, and De Soto seems to have a formidable top three.
"Our top girls are really, really good," McAfee said.
Hannah Jokisch, Madison Frehe, Shelbi Petty and Beth Reichenberger, who all finished in the top 40 at state, round out the returners, a group that McAfee hopes can run with Baldwin in the postseason.
"The way they (Baldwin) ran there the last couple of weeks, it's definitely a very experienced, very determined, very talented group of kids," he said. "If we want to compete with them at the end of the season we have to develop that kind of personality."
On the guys side, things are less certain.
Colin Jokisch, a senior who placed 30th at state despite not having his best day, returns as the top man for the Wildcats. He anchored the team throughout most of the year, and will look to do the same in 2008.
Following Colin Jokisch are Trey Lind, Austin Hinchey and Ry Patton.
"With the guys, it's too early to tell how good we're going to be right now," McAfee said. "I have a good feeling about them. I think we're going to be pretty solid, but it's just too early to tell.
"We're going to have a lot of guys that we've never really had to rely on before that we don't really know how they're going to respond running at the varsity level. We're going to look a lot better at the end of the year than we look at the beginning."
The uncertainty will begin to fade in the near future, though, as the Wildcats open up at 4 p.m., Sept. 4 at Anderson County. However, McAfee said the importance he places on early-season meets is nonexistent.
"We don't care about any meets at the beginning of the season," he said. "We're doing a couple things different training-wise, and so I don't know what kind of effect that's going to have on these guys early on in the season.
"I just want to see some of the new guys that we're looking at integrated into a varsity race and have some
confidence."
More like this story