City council facing 'hard' decisions concerning city's water future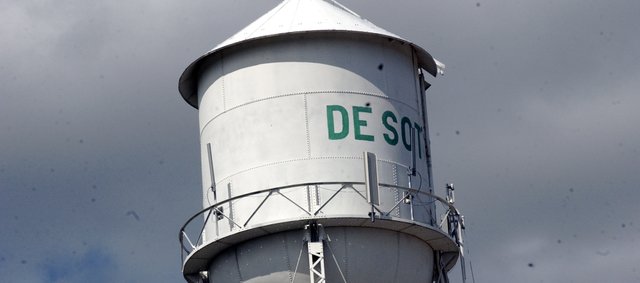 Although they will be aided by more information provided at a special meeting Thursday night, a tough decision looms for De Soto City Council members regarding the future of the city's water department, De Soto City Administrator Pat Guilfoyle said.
The meeting that will start at 5 p.m. in the De Soto City Hall Council Chamber is a workshop on the city's water
Before the council will be the big policy decision of whether the city will continue to produce water or enter into a wholesale purchase arrangement an outside water provider.
Guilfoyle said he would leave that overreaching policy decision to council members. However, he would have recommendations about how best to realize whatever decision the council makes.
His recommendations will be based on undated numbers Guilfoyle will share with the city council, regarding the cost of building a new water plant, refurbishing the water plant at on the former Sunflower Army Ammunition Plant property or buying wholesale water.
Although Guilfoyle is waiting until the workshop to reveal the latest figures, they will update those the engineering firm of Burns & McDonnell produced in a study the city contracted two years ago.
In 2006, Burns & McDonnell provided cost estimates of three options.
The firm's engineers estimated it would require $10.2 million to refurbish the Sunflower plant to provide De Soto's needs, $8.4 million to build a new water plant and $5.3 million over three years to pay for the water line and improvements needed to purchase water from Olathe.
Guilfoyle said the updated numbers he would present would include two options for refurbishing the Sunflower plant. One would reflect a far more extensive project that would gut and replace most of the plant's elements while the other would limit the work to what is needed to make the plant a reliable source of water for the city.
Burns and McDonnell engineers also estimated the city would need from 50 percent to 160 percent in increased revenue - depending on the option selected - in just the first year to start paying for the improvements.
That continues to be a concern, Guilfoyle said, because the only way the city can increase revenue would be to increase the rates of existing customers. The city's customer base is landlocked with limited opportunity to grow. The new owners of Sunflower have indicated they have no interest in buying water from De Soto, and Johnson County Rural Water District No. 6 - which already provides water to outlying areas within the city and plans to provide service in the future to De Soto's growth areas - is also looking for the cheapest water source, Guilfoyle said.
The only chance to expand the customer base that would help pay for needed water production improvements would be infill development, Guilfoyle said.
The new numbers he will share with the council would reconfirm those Burns & McDonnell developed two years ago, Guilfoyle said. Purchasing water wholesale from an outside source remains the cheapest option, although it too would require a considerable capital investment, he said.
The outside water provider would be the city of Olathe, which operates a state-of-the-art water plant east of Cedar Creek that is surrounded by the city of De Soto. Guilfoyle said city staff also talked with Johnson County Water One about a wholesale water connection, but that utility's system development fees priced it out of consideration.
One development has changed since Burns & McDonnell developed estimates in 2006, Guilfoyle said. RWD No. 6 has indicated a willingness to share in the cost of extending a water line from the Olathe plant to De Soto, he said.
Guilfoyle compared the wholesale option to leasing a car. It makes access to quality product affordable, but "you don't own" the plant that produces it, he said.
That raises questions about what would happen during a drought year, and in past discussions council members worried De Soto would be at the end of the line during dry seasons.
Guilfoyle said that would be avoided by the contract.
"There needs stipulation they have to treat us like all other retail customers even though we're a wholesale customer," he said.
As for refurbishing the Sunflower water plant, Guilfoyle said the plant could be made a dependable source of water that would give De Soto full control of its water supply. But Guilfoyle said there was a chance state or federal regulators could mandate new standards a refurbished Sunflower plant could not meet.
Guilfoyle said he didn't expect the council to come to a decision Thursday.
"It's not going to be an easy decision," he said. "There's risk involved in all the options. There's also a considerable expense."
"If it's the community decision to stay in the water production business, there will be a cost associated with that. That's a policy decision for the council."