UMC

women get ready for De Soto Days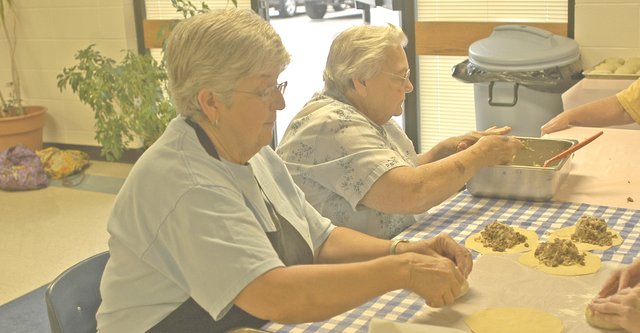 They'll sell brownies, cookies, pop and water at the De Soto Days Festival, but one snack is always in demand for the De Soto United Methodist Church's United Methodist Women - bierocks.
"We sold 120 in a little over an hour last year," UMW president Rita Jones said.
That's why the women are doubling their supply this year, to help meet the demand.
The group met Aug. 9 at the church, bringing ingredients, aprons and ready hands to help make all of the bierocks for the festival, which doesn't begin until Aug. 28.
"This is it, this is our making day," Jones said. "We'll make them, we'll bake them, and we'll freeze them."
So how does a group of women go about making more than 200 bierocks?
It helps to have recipes laminated taped to cabinets in the kitchen, said Dianne Ellenberger.
"I kind of inherited this job from Mary Plummer who is the one who provided our recipe," she said. "The recipe is in our United Methodist Cookbook."
Although Ellenberger is technically in charge, it's Rosie Inman who gives orders.
"I have her do it because she's bossier than me," Ellenberger joked.
There was a time when the UMW stopped selling the bierocks at the festival, but Jones said they had a demand for them, so they started selling them again.
"It's something different," Jones said. "It's not your normal carnival food."
And while several of the women have helped put together the bierocks year after year, as they put together this year's batch no one could remember why they decided to sell bierocks in the first place.
Jones said the popularity of the UMW's bierocks is spreading across the country, as she received an e-mail inquiry on the recipe from a United Methodist minister in Sylvania, Ala.
"We're organizing a farmer's market and thought we might want to make some of these to sell to help support some of our ministries," the Rev. Teddy Crum wrote.
The UMW uses the money raised from bierock sales to go to its mission projects including the De Soto Multi-Service Center and New House.
This is one of three fundraisers for the women, including the Election Day Dinner Nov. 4 and the Fall Festival Oct. 11