First time fair contestant places in quilt, pie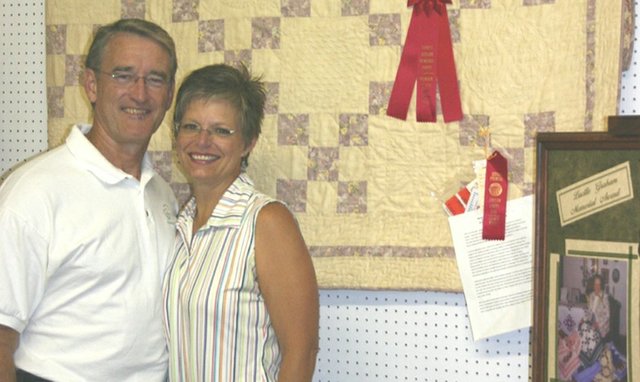 It took Kathleen Webb five years to finish her first quilt, but it only took a day to find out it won second-place in the Johnson County Fair.
Webb starting quilting at the encouragement of her friend and one-time co-worker Kelly.
"It was just one of those things that I just always wanted to do and I never did and I got tired of talking about it," she said.
Fast-forward five years and her quilt received second place in the fair along with the Lucille Graham award, named after the grandmother of her friend Kelly. Kelly got to present the award to Webb last week at the fair, and now the quilt hangs on display in De Soto City Hall.
Before Webb started working on her quilt she did some research.
"I kind of knew what I wanted to do in my head," she said. "I wanted something old-fashioned looking and the pattern itself, the piecing part, I needed to find a pattern that would be a relatively beginner pattern. I'm a reader and I found some really good resources on how to make the quilt and also on some antique patterns."
During her research, Webb discovered that a lot of quilting patterns have meanings that are passed down from generation to generation.
Webb used designs she found in quilts from the early 1800s. She recognized many of them from the East Coast, where she grew up.
"I recognized the patterns derived from the Pennsylvania Dutch folk art of eastern Pennsylvania," Webb wrote in a description that is attached to her quilt in City Hall. "So many of the patterns reflect time-honored symbols: rain drops and leaves for fertility, hearts and interlocking circles for love, pineapples for hospitality, and other symbols to hearten strength and good luck in a marriage."
In the lower right hand corner of the quilt, Webb stitched in her hand print, a trademark she intends to use again.
"It's not an original idea," Webb said. "A gal I was working with, her family was quilters and she said every quilt her grandmother made she put a handprint on it, and I thought what a great idea."
Webb finally finished her quilt early in the morning of July 4, and she and her husband, Joe Webb, slept under it that night.
When she told her mother-in-law Nell Webb, who is an avid quilter, that she had finished her first quilt, Nell asked if Webb remembered what she dreamt that night.
"The tradition is the first night you sleep under you quilt, whatever you dream will come true," Webb said. "I couldn't remember. Had I known that, I would have paid more attention."
This was the first time Webb has entered a fair, and she did so at Nell's encouragement. She also decided to enter her cherry pie into the fair. Her pie was named grand champion.
"It's a really simple recipe," she said. "My mother taught me to bake pies. She told me I wasn't allowed to leave the house until I knew how to make pie crusts and gravy, that they were a dying art."
And it seems the luck spread to her husband, who won second place for his carrot cake.
"She was the one that just pressured me into entering something," Joe Webb said. "It was the first time I ever made one. I just used one of her recipes, put it together and just tossed it in the fair. I didn't just enter in the men's division either."
More like this story