Face of 4-H
De Soto teen named Miss 4-H at JoCo fair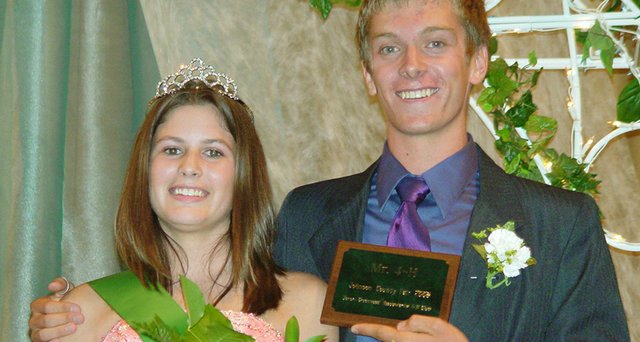 It was the people who kept Breanna Sigman coming back to 4-H every year since she was 7 years old.
"If it wasn't for the people and friends that I've made in the program, I probably wouldn't be in it today," she said.
Sigman, now 18 and a recent graduate of De Soto High School, saw her hard work with the Pioneer 4-H Club pay off this year, as she was named Miss Johnson County 4-H at the Johnson County Fair.
"When I was little, I always looked up to Miss 4-H, and one of my really good friends was Miss 4-H a few years back," Sigman said. "Ever since then, she has encouraged me to do it, along with my mom."
"My mom has really been involved in 4-H, and this is a way to give back to here and also give back to the program that has had a positive influence on my life."
To compete for the title, Sigman first had to fill out a four-page application.
"It is the hardest application of all time," she said jokingly. "It is one of those applications where you have to put down every single thing that you have done in the 4-H program. I have been in 4-H for 11 years, so that adds up to a lot of community service."
Recently Sigman donated a check for $2,300 to the Kiowa County 4-H youth at their county fair July 22 for use in helping rebuild Greensburg.
Sigman raised the funds operating a dunk tank at the Johnson County Fair in 2007. Then in January, she received a matching grant from Gap Inc.'s Gap Foundation Gift Match Program.
In addition to listing their 4-H involvement, contestants for Miss 4-H also had to write a 250-word essay, make a five-minute presentation promoting 4-H, answer a question from the audience in front of the judges and then have a 10- to 15-minute interview with the panel of judges.
One of Sigman's 4-H passions includes training her dog, Dakota, who played the role of Sandy in the De Soto High School's production of "Annie" last year.
And, perhaps not surprisingly, one of her most memorable moments in 4-H came from a youth leadership building program where she helped raise $1,000 worth of items for Hurricane Katrina victims in the Bow Wow and Meow Animal Shelter in Bossier, Miss.
"They had a bus that they kept all their dog food and cat food in, and when we got there it was completely empty," Sigman said. "We filled the bus up. That was probably the biggest connection that I felt with a bunch of people and it was definitely one of the most rewarding experiences that I had."
As Miss 4-H, Sigman's job is to promote 4-H, which is what she did all last week at the Johnson County Fair.
"At the fair I am just supposed to walk around and help with whatever possible. I help with all the livestock shows, passing out ribbons and all of that," she said. "My job in 4-H is to help the 4-H program. Hopefully I can get out and talk to multiple people and get more attention next year."
When she's not busy with 4-H, Sigman spends part of her time attending court reporting school so that she can become a court reporter or a caption writer.
"I wanted to do that since I was a freshman in high school and my grandfather's neighbor is a paralegal so we talked and I got some advice," she said. "It's kind of like shorthand. It's a whole different language, and it's really difficult."
More like this story