Rieke Lake Park plan to be shared with public Monday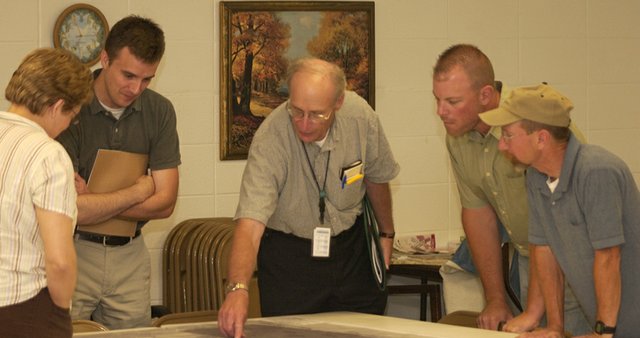 De Soto residents will have the opportunity Monday view concepts of how two local county parks will be developed.
Johnson County Parks and Recreation District will conduct a second public workshop on master plans for the 465-acre Rieke Lake site and the 60-acre Sunflower Nature Center. The public workshop for both properties on De Soto's western boundary will be 6 p.m. Monday at the De Soto Senior Center, 32905 W. 84th Street.
A workshop on the Cedar Niles property was conducted Aug. 6 in Olathe.
The county hired the landscape architectural firm of Bowman, Bowman & Novick Inc. in March to development master plans for the two projects and one for the Cedar Niles property north of Ernie Miller Nature Park in Olathe. Representatives of the contractor, its contractors and park district had a public workshop in June to solicit comment on how the three properties should be developed.
At the June De Soto workshop dedicated to the Rieke Lake property and Sunflower Nature Park, the county and the consultant presented maps and information on the physical nature of the properties, existing facilities and such things as available access while gathering public comment on how the properties should best be developed.
The Rieke Lake property, which will be a future regional park, has two distinct environments: a southern area of prairie upland, which includes a 30-acre lake, and a northern section of heavily timbered bluffs that slope down to the Kansas River floodplain.
The format will be different Monday, and for the first time the public will get to see how his firm is proposing the Reike Lake property and Sunflower Nature Park should be developed, said Paul Novick, a principal with Bowman, Bowman & Novick.
"At the beginning of the meeting, I will present the recommended master plans for the two parks," Novick said. "Someone will then present individual copies of the preliminary master plan and then we'll break into small groups for questions and comment. I think people are more comfortable expressing their opinions in small group settings."
At the June meeting, public comment favored more passive uses of the Rieke Lake property and not such uses as ball fields. One of the more interesting suggestions was that it be the home of a heritage farm.
Novick declined to comment on the details of the preliminary master plan, other than to say it would reflect a mix of uses that took public comments from the June workshop "to heart."
Novick said the preliminary master plans would be revised based on Monday's public comments, shared at a workshop with Johnson County Park and Recreation Commission at a still unscheduled meeting in September and adopted in October.