New
DHS

band director honors tradition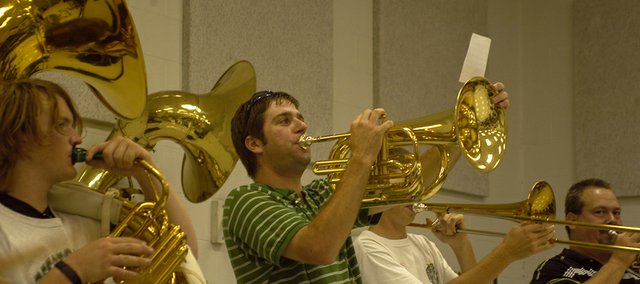 Tradition is important to new De Soto High School band director Dan Freeman.
"The traditions keep you in touch with the audience and in touch with the community," he said.
That is why Freeman is keeping some of the traditions from previous director Justin Love's term, including the showcase concert at the end of band camp and the pre-game sets for marching band.
But he's also bringing in some ideas of his own, like the drilldown freshmen and section leaders had during camp Friday. A drilldown is a competition between band members to execute actions precisely. Those who lose balance, misstep or fail to properly execute a move are eliminated, and the person left at the end wins.
"You don't see them too much anymore," Freeman said of drilldowns. "I don't know why it's gone out. What it does is emphasizes all the body control and things we are doing. Marching band has always and forever been kind of half athletic and half music."
Freeman wants to work with students, parents and the community to keep the band's energy high.
"The main goal I have is that already the program the DHS band has a great tradition. I want to keep the energy around the DHS band going," he said. "Within that energy and family, if we establish all that, we are going to challenge these students to be a better version of themselves."
Freeman grew up in Hutchinson, the son of educators. His father was a high school band director, and his mom still is an elementary music teacher.
"Growing up around it, it seemed natural to go into music," Freeman said.
At Kansas University, Freeman started as a duel music and engineering major because he wanted to get into acoustical engineering. But then he changed his mind.
"I went, 'I'm here because of the music,'" he said. "At that point, too, I thought I really want to be a teacher if I am going to be a musician."
Freeman earned his bachelor's degree in music performance and then earned a masters degree in music education at Indiana University. Freeman plays the euphonium, trombone and bass trombone, and he has tutored for 10 years and also assisted at a high school in Indiana.
This summer, Freeman has been busy preparing for his first year as a head director of a high school band, but he also is preparing for his wedding in November.
"It's been a nerve-wracking summer," he said. "It hasn't been anything about school. The nerves came from the fact that I didn't know the kids yet."
Last Thursday and Friday were Freeman's first days with his new students, and he was impressed with what he saw.
"Everything has gone smoothly," he said. "They are a great group of kids."
And the students had a chance to meet him.
"He's got a lot of good ideas and he's came into the program really well and adapted," said Jenna Hodges, who is a senior drum major this year.
Hana Lindbloom, another senior drum major, said it was different not having Love as the director this year, but things were working out well.
"You can tell a difference definitely, but that is with any teacher," she said.