A helping hand
Multi-Service Center helps families with school supplies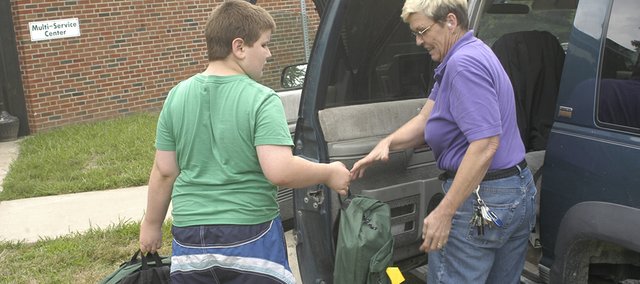 Jodi Hitchcock, director of the De Soto Multi-Service Center, expects to see more families needing help with school supplies due to the poor economy.
"I definitely think we will see more families as we get closer to the day that have realize they are just not going to be able to do it on their own," she said.
That's where she comes in.
The De Soto Multi-Service Center again this year is providing backpacks and school supplies for children in De Soto USD 232 who qualify for free or reduced lunch. Already Hitchcock had about 200 students on her list, which is about where she was at last year. However, she knows that as the first day of school, Aug. 18, approaches she will see more.
"We have people that come the second day of school," she said.
The De Soto Multi-Service Center is part of Johnson County Human Services and Aging, and receives school backpacks filled with supplies from Project SOS (students, outfits and supplies). The nonprofit program merged with Heart to Heart International on what is now called the School Readiness Initiative. About 12,000 children in 37 counties in Missouri and Kansas will receive supplies from Project SOS.
Huhtamaki in De Soto also donated $800 worth of supplies and money to help students heading back to school in De Soto USD 232.
Tuesday afternoon, Hitchcock's office at the De Soto Community Center was buzzing with volunteers helping those who came to pick up backpack filled with supplies.
Chad Miller, 11, De Soto, carried out backpacks out to the car for LisaDawn McCabe.
McCabe, of rural Olathe, said she was grateful for the help with school supplies.
"We have a large family," she said. "We have 11 children total. Eight of them are still at home and seven are still in school. These seven backpacks make it possible that we have the supplies to start the school year."
McCabe noted how the saying that it takes a village to raise a child is true, and that the help from the Multi-Service Center is an example of that.
"It does take more than just parents," she said.
Backpacks filled will supplies also will be distributed Thursday, and families who didn't sign up still can contact Hitchcock for help, as she tries not to turn people away.
For more information on the De Soto Multi-Service Center serving De Soto USD 232, call 583-1152