Track team competes at a higher level at Cardinal Relays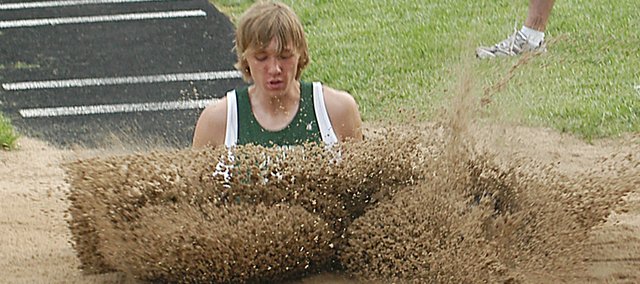 Overall, it was a bounce-back performance in the eyes of coach Brian Dinkel.
The De Soto boys track team captured an overall points win Monday at the Cardinal Relays in Eudora, while the girls competed at a higher level than at the KT Woodman meet and finished fourth in a field of nine teams.
"They wanted to compete, and they ran really hard and jumped pretty well for the most part," Dinkel said. "The kids actually seemed excited tonight. Pretty much across the board we did well."
Success across the board wasn't an option for De Soto earlier in the year, but for the first time a thrower made the finals and placed in a throwing event. Emma Tinsley finished sixth in the discus with a throw of 78 feet, 1 inch.
The boys ran away with the team title besting second place Eudora 138 to 107.
One of the most impressive running heats of the night featured freshman Jordan Riffel and senior Andre Linzy in the 200-meter dash. The two were neck-in-neck for most of the way, but Riffel eventually edged out Linzy by one-tenth of a second, in 22.8 seconds.
"They were basically running against each other," Dinkel said. "But their times were pretty fast."
Riffel said he and Linzy normally don't get to go against each other.
"We're always in different heats," he said. "Coming out of (the blocks), I thought the Eudora guy had it, but then I saw Andre come up next to me and that pushed me a lot."
Another one-two finish for De Soto in boys running events were Riffel and Jamell Townsend in the 400-meter dash. Again Riffel won it with a time of 52.0 seconds, over Townsend's 53.0 seconds.
The trio of Linzy, Townsend and Riffel also went first, second and third, respectively, in the long jump. Linzy won it with a leap of 22 feet, 6 and one-half inches.
Linzy and Townsend placed first and third, respectively in the triple jump. Linzy leapt 43 feet, 10 and three-quarters of an inch.
Another event dominated by De Soto, in both boys and girls events, was the pole vault.
On the boys side, Jordan Slater and Brian Murdock both went 10 feet, six inches. Slater won the tiebreaker in less attempts. Aaron Donnell came in fourth at 10 feet.
For the third straight week, Cheyenne Williams vaulted 9 feet, 6 inches and nabbed first place for the girls team.
"I am a little frustrated because I'm almost there," Williams said of not being able to clear the 10-foot bar that has long been her goal. "I come in really low and by the time I get to 10 (feet) I'm tired. I could come in at 8 feet and maybe do better. But today I hadn't practiced coming in at that height."
Other notable finishes for the boys were Jeff Bowen's performance in the 300 hurdles and the 4-by-400 relay team's first place finish. Bowen finished second in the hurdles in a time of 44.8 seconds. Then Bowen, Linzy, Townsend and Riffel ran off with the 400 relay in a time of 3 minutes, 36.6 seconds.
Along with Williams, Lacey Erickson won an event by placing first in both the 3200-meter run and the 1600-meter run. Her time in the mile - 5 minutes, 31.9 seconds - bested her previous personal best by five seconds.
Barbara Hartz, along with the 4-by-800 and 4-by-1600 relay teams got the night off after running over the weekend in the KU Relays.
De Soto will try to keep its momentum going at 3:30 p.m. Friday when it hosts its annual De Soto Invitational meet.
More like this story