Something to build on
Golfers place fifth at league tourney, eye state berth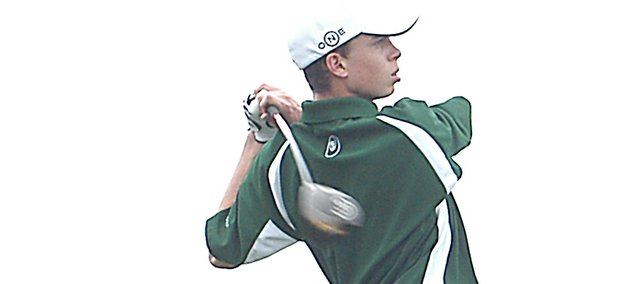 Just like Rome, the De Soto High golf program wasn't built in a day. It won't be resurrected in one day either, but with a successful showing at the Frontier League tournament at Eagle Bend Golf Course in Lawrence, second-year coach Chad Brecheisen's optimism was at a season high, and then some.
"It's the most encouraged I've been in two years," he said. "I'm starting to see the guys as a group come together and really think that they can accomplish something."
Led by another strong performance by sophomore Alex Crall, De Soto finished fifth in a field of seven teams with a score of 340. Paola set a new school record and won the event with a 293.
Crall shot an 81 on the day. That was good enough for a three-way tie for ninth place, although a scorecard playoff bumped him to 11th place and prevented him from capturing a medal.
"He's played so awesome the last two tournaments," Brecheisen said. "If he avoids just a couple more bogeys, he's in the 70s. We're real close."
Charlie Modereger followed Crall for De Soto with an 83. Modereger, a junior, was impressive at times, like on hole no. 9 when he reached the green and had a 20-foot putt attempt for eagle. Although he three-putt the hole for par, he was at plus-6 heading into the back nine where he performed one stroke better than on the front nine.
The 83 he posted was even more impressive considering he had around five penalty strokes. His score alone was good for a 13th-place tie, but the scorecard playoff dropped him to 16th.
To configure a scorecard playoff, golfers compare scores on the hole that was the toughest on the day. Senior Drew Roddy and freshman Brett Williams rounded out the team scoring for De Soto, both posting an 88.
Roddy has been the model of consistency for the Wildcats. On most occasions he hovers around the 90 mark, and did two better than that when his team needed him and Williams most.
The scores of the top-four golfers for each team are counted when tabulating team scores, and the Wildcats' Scott McKechnie, often one of the top-three scorers for De Soto, struggled on the day, posting a 93.
"Scott didn't play great (Monday), but that's where the team picked him up," Brecheisen said. "His mid-80s was replaced by Drew and Brett, and I was pretty happy with that. Scott will bounce back."
Brecheisen said he expected McKechnie to shoot somewhere around an 83. Had that happened, it wouldn't have helped the team's finish because a five-stroke improvement would have still landed De Soto in fifth place, one-stroke behind Ottawa, which shot a 334.
McKechnie said it was a sign of the team's improvement over previous years.
"It's the most focused (team) in the four years I've been on varsity that we've had," he said.
Saturday at Osawatomie, things didn't run nearly as smoothly for De Soto. The Wildcats shot a 368 as a team and finished in 13th place. Twenty teams competed in the tournament.
Crall shot an 86 and, after the tiebreaker, finished 21st.
For McKechnie, Monday was a step towards righting the ship.
"We have five really good golfers right now. One person can not have a good round and four other people can pick up good scores," he said. "So we have a little bit of room for someone to make a mistake."
For De Soto golfers, that focus needs to carry over into the final stretch of their season in order to qualify someone for state.
"I'm excited. I told them, 'I don't care who punches my ticket, I definitely just want somebody to punch the ticket to go to state," he said. "That's the way we start building the program."
De Soto traveled to Sycamore Ridge for Mill Valley's tournament Wednesday, but results were unavailable at press time. Perry Lecompton's tournament May 1 follows, and the regional tournament follows on May 12.
Between now and then, solid team finishes could mean construction has begun.
More like this story