De Soto high school students experience homelessness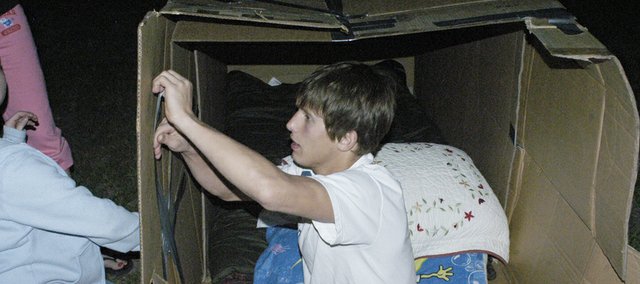 Cardboard boxes were the only means of shelter for several De Soto High School students last Wednesday.
They were homeless for a night as part of the world affairs class taught by Adrianne Lehrman.
The class was learning about homelessness and poverty and Lehrman thought it would be a good idea for them to experience it first hand.
She got the idea from her husband, Mike, who knew some Kansas University students who spent their spring break doing an urban plunge, which put them on the streets in Washington, D.C., for 48 hours.
The students started out the night writing in their journal what they were most nervous about and thinking up questions for a panel that Lehrman set up.
The panel included two representatives from the City Union Mission in Kansas City, Mo., a representative from the Lawrence Community Shelter and Jodi Hitchcock, director of the De Soto Multi-Service Center.
The panel talked about how they helped those in need and also addressed misconceptions and facts about homelessness.
"There are a variety of ways that bring people to homelessness," said Shawna Ketter, corporate relations and procurement specialist for City Union Mission. "It's not always the person that's on the street corner. We've had a lot of big layoffs in Kansas City, some of them are families of executives."
Hitchcock said Johnson County was not immune to homelessness.
"So many people have that idea that Johnson County is that land of milk and honey and that there is no poverty, well that is not the case," she said.
In 2005, a point in time count was conducted, which counted the number of homeless people in Johnson County during a 24 hour period. The count came up with 256 homeless people, but Hitchcock said there probably are more because there could have been homeless who were not counted because the census data collectors didn't find them and those who are homeless but "couch surf" were not considered to be homeless.
Hitchcock told the students that there is no homeless shelter in Johnson County, although the Salvation Army does have a family lodge with specific rules on who is allowed to stay there. There also is the Johnson County Interfaith Hospitality Network, which has more than 30 congregations that host or provide support for homeless families for one week at a time every three or four months.
Loring Henderson, executive director of the Lawrence Community Shelter said homeless people think about things most people take for granted.
"Homeless people have two basic problems you and I don't have to think about," he said. "Number one, where to go to the bathroom and two, where to put our stuff."
After the panel, students wrote in their journals about what they had learned.
Junior Kaela Tabor said she was inspired by the panelists.
"I really want to get into this," she said. "I want to do what they do. Ever since we got into this unit I was drawn to it."
Before the students set up their boxes for the night, Lehrman set the ground rules.
"I need all watches and cell phones," she said. "There can be no visitors and authentically you are being homelsss. I want to make it as realistic as possible that is why we're not going to do iPods or things like that."
Later in the night, the an officer from the Johnson County Sheriff's Office came by and told them they couldn't stay by the building - a move Lehrman planned to make the night more realistic.
The group moved to the football field where the spent the rest of their night before waking up to rain at about 6:30 a.m. Thursday.
"We woke up and went under the concession stand roof," Andrea said.
After spending a night without the comforts of home, Andrea said she was grateful of what she had.
"I'm really glad to have a shower now," she said.
More like this story