'

Cats earn first win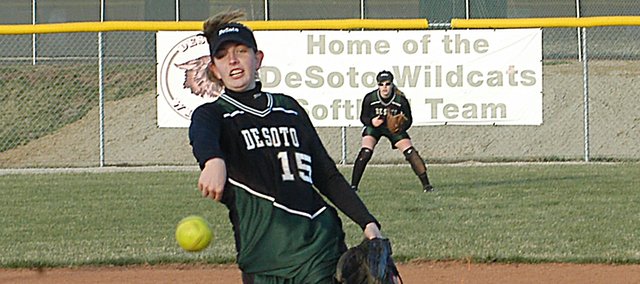 They are on the board.
De Soto's softball team claimed their first two victories of the season Monday, sweeping Central Heights, 8-0 and 3-1. However, the winning streak wouldn't last, as De Soto dropped a pair of games at Louisburg Tuesday, 16-0 and 4-2.
"We hit the ball really well the first game (against Central Heights)," coach Melissa Wible said. "And base running looked good. Eight runs, that's a lot of runs."
In the first game of the Central Heights sweep, Katie Williams threw a shutout and had 10 strikeouts.
Offensively, Williams produced at the dish as well. She had two hits, two RBIs and two runs scored. A slew of other Wildcats also had two hits, including Marisa Jarboe, Hannah Jokisch, Megan Sterling, Hayley Brown and Jessica Pennington. Pennington hit in three of the eight runs scored for De Soto. Jordin Burford had one hit, two RBIs and one run scored.
"It felt good to score so many runs because when you score that many runs it gives you some room to have some errors in the field," Wible said.
In the second game of that doubleheader, De Soto got off to a fast start scoring all three of their runs in the first inning. The pitching and defense took over from there on out, and the Wildcats got their second win of the season.
Jessica Pennington was the winner on the rubber for that one, and she tallied nine strikeouts in a complete-game effort.
Next up, De Soto plays St. James Monday on the road.
More like this story