Search continues for De Soto man missing on Kansas River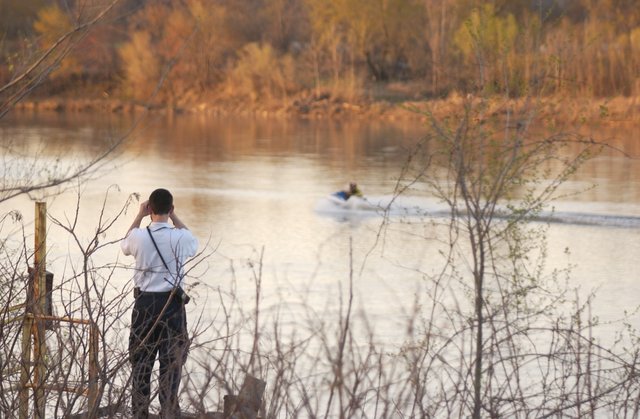 Kenna Wright was frightened when two men started banging on her door and yelling loudly, shortly before 6 p.m. Saturday. She was startled, having dozed off, but the pleas to call 911 made her realize something was very wrong.
The men were soaking and desperately trying to find help for their friend, Shaun H. Shaw, 26, De Soto, who was swept away by the Kansas River, after their canoe capsized Saturday evening. Rescue crews worked from 6 p.m. to midnight Saturday, using boats and helicopters to look for Shaw. On Sunday afternoon, they said the operation had switched from a rescue to a recovery, all but giving up hope that Shaw would be found alive.
Wright, whose home sits atop a hill about half a mile from the Kansas River, described the chaotic scene, detailing the men's frantic trek through muddy, marshy land, across railroad tracks and up her hilly property, the closest home to the river.
"They were very upset when I saw them," she said. "They were chatting and couldn't stop talking about their friend. They didn't know if they had done right by coming up here or going down there, or what they should have done."
Shaw and his friends, who have not been identified, were hunting for mushrooms on the river when they hit rough waters near the Weaver Bottoms, about one and a half miles northwest of Eudora, Wright said. They stood up to stabilize the canoe as they floated from the Wakarusa River into the Kaw. The canoe capsized, spilling the men and their lifejackets into the water.
As Shaw's friends struggled to swim ashore, battling cold water and an undertow, they watched him cry for help. Eventually, Wright said, they decided to find assistance, trudging in heavy, wet work boots to Wright's house.
Sgt. Blake McCall, of the Douglas County Sheriff's Office, said a 911 call came in at 5:48 p.m. and a search party was organized, using helicopters from the Kansas Highway Patrol and LifeStar to search for Shaw from above. Boats from Lawrence-Douglas County Fire & Medical and the Kansas Department of Wildlife and Parks were dispatched to the river.
Rescuers ended their search about midnight Saturday and returned to the river about 7 a.m. Sunday. Dogs trained in water rescue were on the boats, and agencies from De Soto and Eudora as well as Johnson, Jefferson and Douglas counties participated in the search for Shaw.
While the search is now in recovery mode, Shaw's aunt, Lawrence resident Liz Phillips, was clinging to hope.
"There's always hope that he's on the bank someplace," she said. "We'll hold out hope as long as we can."
Lt. Kari Wempe, a spokeswoman for the Douglas County Sheriff's Office, said crews would continue searching for Shaw.
"The objective is to locate him, and beyond that we're just going to keep on working the scene until we can't any longer, and (then) come back and keep doing it," she said.
Wempe said the search ended about 6 p.m. Sunday and would resume at 8 a.m. Monday.
David Ellis, Kansas City district supervisor for the Kansas Department of Wildlife and Parks, said his department, which is the operation's leader, would continue looking for Shaw near the spot where he was last seen. Ellis said boats would use a drag bar to comb the riverbed. A flat-bottomed boat patrolled the river Sunday afternoon.
The river's varying depths could prove challenging to the recovery, Ellis said.
"The river's always a challenge, no matter whether you're familiar with it or not. We're just going to do the best we can," he said.
Wright was still shaken a day after she helped Shaw's friends. She had difficulty sleeping Saturday night because of the experience.
"I've had a lot of time to reflect on that," she said. "I just wish I could have done something more than call 911