Accident puts downtown De Soto in the dark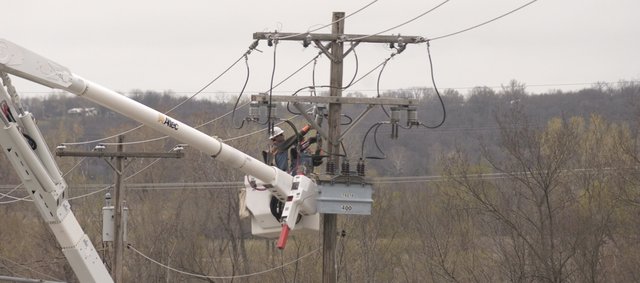 Downtown De Soto and the residential neighborhood to the north were without electrical power for about 3 ½ hours Friday after a truck brought down two power poles at the city shop.
De Soto street supervisor Ron Creason said a semi with double trailers entered the city shop at about 11:30 a.m. to pick up used tires snagged a guide wire, snapping the pole it was connected to and another at the site. Three transformers at the city yard at 82nd and Shawnee also were destroyed.
Westar Energy was able to restore power at about 3 p.m.
The power came just has The Bleu Tomato downtown was filling up for lunch, said co-owner Karen Mitchell.
"It hit the lunch pretty bad," she said. "Friday's generally a good day for us."
Creason said the city asked a tire recycling company to send a truck to pick up a large cache buried tires discovered this week during construction of the new De Soto Riverfest Park site on the Kansas River west of downtown. There were no tires at the shop, and the driver was to call ahead to learn where to collect the tires from the park and a smaller collection of used tires from city vehicles, he said.