Young engineers
Starside students learn how to program robots in school club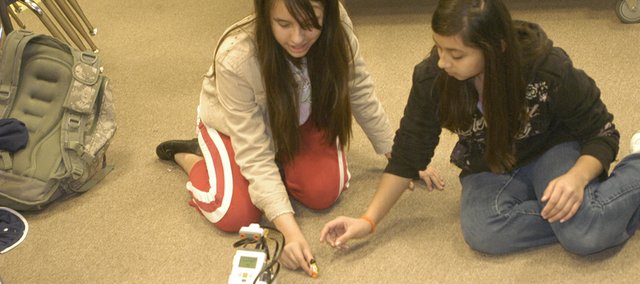 Fifth-graders Veronica Juarez and Joselin Deleon placed their robot on the floor and watched to see what it would do as it approached a small Lego man.
Just before it got too close, the robot changed directions keeping the Lego man free from harm.
"Yes, it works," Joselin said.
Joselin and Veronica stayed after school last Wednesday as part of Starside Elementary School's Lego Robotics club.
The group of students meets about once a week to build and program their own robots. Last week, most of the children were experiencing some computer malfunctions, so fifth-grade teacher Andrew Elliot had them make a plan outlining actions they wanted their robots to do.
Fifth-graders Garrett McClaskey and Rachel Parrish said they knew exactly what they wanted their robot to do.
"We are going to make our robot run over the Lego man," Rachel said as she and Garrett giggled. "Once we get the robot started, we can make it do our command."
Joselin said she found out about the club from a note passed out at school.
"At first I said, 'I'm not going to join it,'" she said. "They said that they were going to make robots and at first I said, 'that's going to be hard,' but they said they were easy to do and they said they would move and all that."
Rachel said she joined the club because she had fun doing it last year.
"I got really interested in it," she said. "It's amazing what you can do with Legos."
Garrett said he was glad his mom let him be in the club.
"My mom, she knows I've always loved Legos," he said. "I've played with them since I was a little kid and she knows I like building things."
Elliot said the students had just finished their robots the previous week.
"With the first one, we'll try to get just the most basic commands down like 'go forward,' 'go back,' and 'turn around,'" he said. "Eventually they will start using sensors to detect an object, detect light or detect colors. I guess in the past they've even been able to take them out in the hallways and the sensors will pick up the colors on the tile."