Medical crisis gives family lesson in small-town values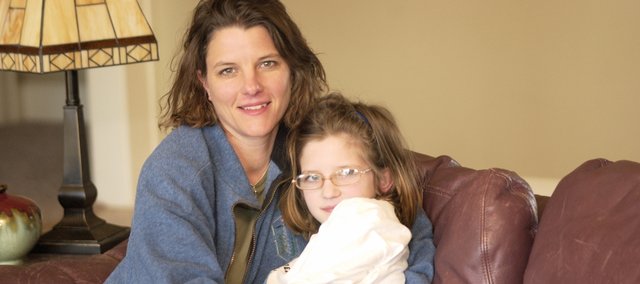 Tamara Selk's 8-year-old daughter Sydney had a weeklong hospital stay earlier this month, but the mother doesn't think the odd circumstances that turned a relatively common childhood condition into serious medical emergency was the story.
Rather, the two-year resident of De Soto thinks it was the community's response to her daughter's health crisis.
"It's the town," she said. "I'm impressed. I never thought I'd be part of a small town where the school bus driver called you to find out when your daughter would be back on the bus. I didn't think a convenience store owner would call you to tell me I'd left my credit card at his store."
The Selk family's first-hand experience of the caring nature of small towns began April 3, when Sydney got sick at school from what appeared to be a stomach bug.
When two days later Sydney hadn't improved, Tamara and her husband, Greg, took her to Children's Mercy South. There, they were given some medication and a warning to get the girl to her doctor if she continued to have stomach pains and vomit.
The next day Sydney was "projectile vomiting" when not lying listlessly on her bed, Tamara said. It motivated another trip to Children's Mercy South, and this time a dehydrated and very sick Sydney was admitted.
Sydney had appendicitis, a common enough condition. Doctors missed the diagnosis because Sydney is "mal-rotational," which means her intestines and other organs in her abdomen aren't where they are expected to be.
That oddity was caught on a CAT scan, and it also was learned Sydney's appendix had burst. With the dangerous diagnosis, Sydney was transferred to Children's Mercy and surgery scheduled for April 4.
The Selks opted for a new lathoscopic technique that could be done immediately but still required Sydney to stay in the hospital for five days as a precaution against infection from the burst appendix.
Through it all, the Selk family that includes 9-year-son Christian, which had witnessed the community band together to raise money for Libby Stone's liver transplant and Tara Dalton's heart surgery, experienced how caring De Soto could be.
Among those showing concern were Sydney's bus drivers Donna and Tawyna Williams, who called to ask about the girl, sent Kansas University themed gifts and suggested pickup options for when Sydney did return to school. The De Soto United Methodist Church listed Sydney on its prayer list although the Selks attend a Lenexa church, Sydney's teacher and the Selks' neighbor Suzy Sherman included a get-well chant among her morning announcement, and J-Mart owner John Flegler called to inform Tamara she left her credit card at the store when an employee recognized the name and what the family was experiencing.
"He didn't have to do that," Tamara said. "He could have just turned it in, and I would have put a stop on it."
Sydney was happy to learn of the concern, too. While in the hospital, her expressed desire was to return to school and her friend.
Should one of her classmates get sick, she knows what she would do.
"I would call and say I hope you feel better," she said.
The small-town concern was more than the Selks, who grew up in Overland Park, expected when they moved to De Soto two years ago on an Oak Country lot her husband bought years earlier, Tamara said.
"Greg wanted to be not out in the country but in town where we would see other people," she said. "We had no idea we would enjoy a small-town atmosphere like we did. One of our neighbors didn't know about Sydney until late, and they were so disappointed because they didn't know in time to help.
"I just want people to know De Soto has been somewhere, is somewhere and is going somewhere and it's the people making it happen. It's a hometown in Johnson County and I don't think you can say that about Overland Park."