Boston Marathon latest challenge for De Soto board member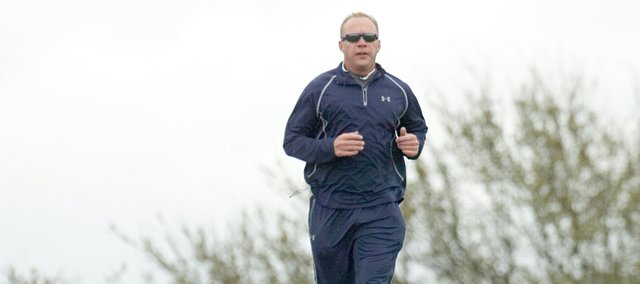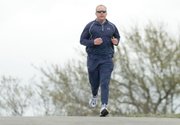 As his 40th birthday approaches, Don Clark says he is in the best shape of his life.
The De Soto USD 232 at-large Board of Education member is training for the Boston Marathon, in which he will compete Monday.
Clark, of Olathe, said he always had a goal in life to run a marathon, but this isn't his first. He ran his first marathon in Chicago 10 years ago, and he ran in the Boston Marathon in 2006.
"What really hit me this year is I'm getting ready to turn 40 in June," he said. "I'm going to go into 40 fighting."
As the race approaches, Clark is following the recommended training schedule on the marathon's Web site, bostonmarathon.org, which has him running several miles six or seven times per week.
"I added a little bit of weight training also to help make my legs stronger," he said.
Hills also have been a major focus for Clark's training. He said around mile 18, some runners end up walking because of the hills at the end of the more than 26-mile race.
"For between 3 and 3 1/2 miles you are running uphill," he said. "They talk about this runner's high, you have to hit that. That is what carries you up this hill."
Cold winter weather with lots of ice and snow made training difficult for Clark this year.
"It's been one of the worst winters I can remember to train in," he said. "I fell about four or five times on the ice and snow this year. I'm hoping those types of training runs will really help me."
Since he began training in December, Clark said he has lost about 15 to 20 pounds, although he eats a lot more food to fuel his body for his runs.
"You've got to take in a lot of calories," he said. "My wife is like, 'Will you stop eating? It's not fair.'"
Clark's wife has helped him train by riding on a bike alongside him during some of his runs. She will travel with him Friday to Boston, where they will catch a Boston Red Sox game as they prepare for the marathon.
Although Clark is running to be in shape, he said he also is doing it to be a good role model for the teams he coaches.
"I've always believed from a leadership side that it's one thing to talk about it, but it's another thing to do it and show it," he said. "I want to let them know that look, anybody can do this. If you put your mind to it regardless of what it is, I truly believe that you can accomplish anything."