Riverview diabetes walk raises $19,800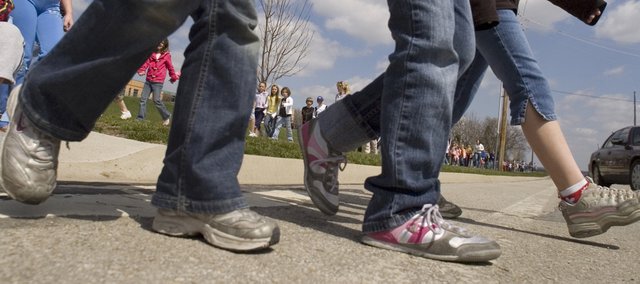 Ten-year-old Jake Drees wrote a letter to his school about his experience with diabetes.
"I said I got it when I was 5 and a lot of other people have it across America and you have to get shots," said Jake, who is a fourth-grader at Riverview Elementary School.
Jake's letter was read over the morning announcement and was one of several activities planned to educate students about diabetes as the school prepared for its diabetes walk Friday.
Before the walk, physical education teacher Isaac Hodges revealed that students had raised more than $19,800 during the school's first year for the event. The money from the walk will go to the American Diabetes Association to help fund research.
"I am so proud of you guys," Hodges said to the students. "You did an amazing job."
And because the students raised so much money, Hodges agreed to shave his head.
The week before the walk, school nurse Angie Tims said there was a special guest on the school's morning announcements every day, teaching students about diabetes and encouraging them to collect pledges for the diabetes walk.
"It's been amazing," Tims said of the amount of money the students brought in. "The participation has just been almost 100 percent."
About 540 students filed out of the gym and walked down to the bottom of the hill to the crosswalk. Shawnee police were there to help the students cross 47th Street.
Teachers used radios to keep in touch with each other and make the walk go smoothly.
As they got back to the school, the students lined up for ice pops and sat on the lawn in the warm sun.
Jake's parents Brian and Beth Drees, said Jake wears a pump on his side and pushes it once after every meal to inject his insulin.
"We just want him to be as normal as possible," Beth Drees said.
Jake, the only student in his school with diabetes, said his school's support for the cause was awesome.
"I always wanted a cure and this is going to help a lot," he said.