Tennis again performs well in Topeka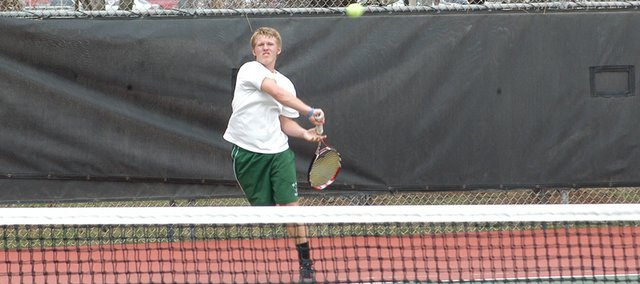 Weather, or the threat thereof, caused Monday's tennis matches to move sites, but couldn't prevent the Wildcats from winning nine of 12 matches at the event.
Junction City, Highland Park and Topeka West were originally scheduled to play a quadrangular match with De Soto at Lake Shawnee before a severe weather forecast caused Highland Park administrators to move the event further south, to the Kossover tennis facility.
De Soto went unbeaten in singles action, with Andrew Konetzni and Matt Edwards both sweeping their opponents. In doubles action, the Wildcats experienced mixed results.
"Overall, we performed very well," De Soto coach Michael Sullivan said. "Singles-wise we were expected to take both those spots so the guys did exactly what they were supposed to do. And doubles-wise we're making some progress there."
In No. 1 doubles, the team of Brendon Hudson and Trevor Elmer went 1-2 defeating their Highland Park opponents in their second match, 8-4. They fell to Junction City 8-6 and lost to Topeka West 8-1.
One of the individuals on Topeka West's team is a two-time state qualifier.
"That's a really, really good team," Sullivan said. "Even though they lost that match, they got some really good experience in that one. They're progressing nicely, getting used to the doubles game."
"We played good. It seemed like we came a long way from a week ago," Hudson said. "We really relaxed (in the third match) even against a team that was as good as they were. We probably won't see competition like that again for a while, so that only made us better."
No. 2 doubles went 2-1. The team of Foster Moore and Joe Dvorak defeated Junction City and Highland Park opponents, 8-0 and 8-2 respectively before falling to Topeka West 8-3.
"Foster and Joe played really well," Sullivan said. "The team they lost to was much more experienced than they were."
De Soto will look to continue its early-season success at the Paola Round Robin, which will start at 3 p.m. Thursday at Gardner. The tournament will be a five-team field. Along with De Soto, Paola, Gardner, Spring Hill and Lansing will participate.
"Based on last year, I think we should fare pretty well," Sullivan said. "The X-factor is do they have any new players or transfers that came in and will adjust their lineup. But we'll actually get to see some schools that are our size."
The only adjustment Sullivan looks to make is to have Matt Edwards and Andrew Konetzni switch in singles competition. Their coach calls them co-No.1's and they will rotate in No. 1 and No. 2 singles matches for the majority of the season. Sullivan gave Edwards the choice between the Paola tournament and Monday's matches and Edwards chose to play No. 1 at Paola's tournament.
"It will be a lot of opponents that we'll see again," Sullivan said. "So whoever Matt plays this time, Andrew will get another chance at some of those guys later in the year."
More like this story