Soccer wins big against Tonganoxie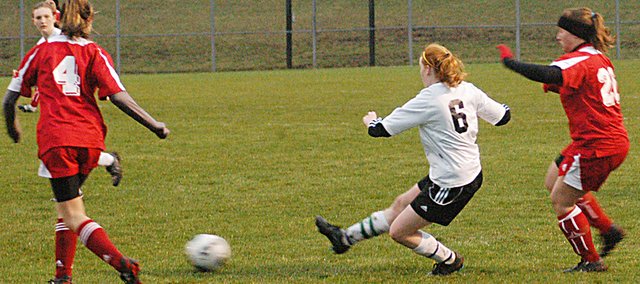 Senior Nicole Radcliffe got a breakaway early in Thursday's home soccer match against Tonganoxie. She fired a shot off the post but quickly got the rebound and put the ball in the back of the net to go up 1-0 with 33 minutes, 10 seconds to play in the first half.
The team never looked back and won, 5-0.
Radcliffe added another goal before the first half ended and the score was 2-0 at the break. Four minutes into the second half, she powered a shot passed Tonganoxie goalkeeper Sarah Flaherty and completed her hat trick.
De Soto sophomore Nancy Marquez scored off an assist by senior Danielle Price with just over 26 minutes left in the game. Sophomore Carly Stanley completed the scoring with 15 minutes, 15 seconds to go.
"I told the girls, 'If you give good effort and play intense, and things like that, things will work out for themselves,'" coach Darren Erpelding said. "And that's what happened."
The win gives the Wildcats an overall record of 3-1-1 and a three-game winning streak.
De Soto next plays Ottawa at 6:00 p.m., April 8 on the road.
Read more in the April 10 edition of The De Soto Explorer.
More like this story