Girls handle Cair Paravel easily after Basehor overtime win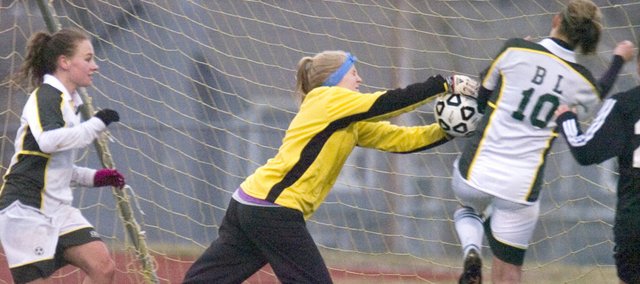 The De Soto girls soccer team managed to get on a winning streak Tuesday, after stringing together two wins against Cair Paravel and Basehor-Linwood.
The more impressive of the two victories was a 6-0 blowout at Cair Paravel, but to coach Darren Erpelding the Basehor 4-3 overtime win was more meaningful.
"Basehor plays us tough every time we face them," Erpelding said. "It's always a very hard-fought game."
To start the game Basehor won the coinflip and elected to play with the wind at their backs in the first half. The wind advantage led to a 3-0 Basehor lead at halftime, but the tide soon swung in the other direction.
"The girls were still confident at the half," Erpelding said. "I just told them, 'We're going to get shots and we're going to come back. They didn't panic at all."
Danielle Price scored the first two goals of the second half to bring De Soto within one point of tying the game.
Towards the end of regulation Price again had possession of the ball in Bobcat territory. She crossed the ball to Kelsey Fisher who scored her first goal of the season and tied the game.
Price then got a shot off four minutes into the first overtime and the ball got into the back of the net for the win.
She had eight shots in the game, scored three goals and had an assist. Nicole Radcliffe also had four shots.
Against Cair Paravel, De Soto got on the board around 15 minutes into the game when Radcliffe knocked a shot to the corner of the net. She then added another shortly afterwards on a penalty kick. She had three goals in the game.
Julie Bray, Carly Stanley and Price each had one.
Stanley, the leading goal scorer a year ago logged some minutes on the offensive end after spending most of her playing time in the defensive, sweeper position so far this season.
Erpelding said it's a move that makes the team better offensively, but Stanley still helps the team against good opponents more on the defensive end.
"When I'm comfortable with how our offense is playing, I'll move her back," Erpelding said. "But against our tougher opponents, she has to play sweeper."
De Soto next kicks off against Tonganoxie at 4:30 Thursday at home.
"Their best player is their keeper and she actually is a very good keeper," Erpelding said. "The Spring Hill coach said they're not that good, but we lost to Spring Hill. It doesn't matter. We're not good enough to come out and play flat. We've got to come out and play well every time we play."