Coach encouraged despite four losses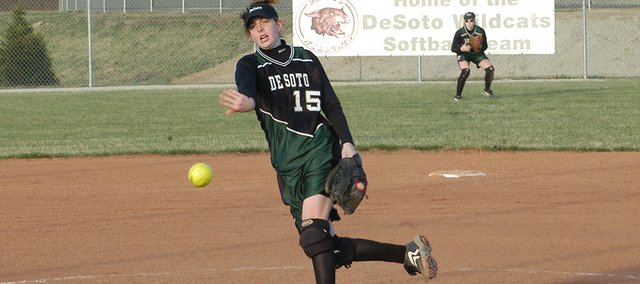 Opportunity is something by itself.
At least that's the case for De Soto softball coach Melissa Wible. In her team's first four games - the latest two 5-3 and 8-2 losses to Spring Hill - she's seen improvement.
"These two went a lot better," she said. "The first game we had the opportunity to win. And every time we get the opportunity to win that's what I like. We had runners in scoring position, so it could have gone either way."
In the first game the Wildcats had the chance to get within one run on two different occasions. Twice Wible sent Hannah Jokisch home on close plays at the plate, and twice Spring Hill made the play necessary to prevent Jokisch from scoring.
"Perfect throw, perfect fielding, if that didn't happen that's a tie game, right there," Wible said. "I'd take the chance again. You want to take your out at home, and the probability they're going to field it cleanly and throw her out at home cleanly isn't high."
Megan Sterling led the way for the Wildcats offensively, going 3 for 4 and scoring a run in the first game.
Also, Hayley Brown was 2 for 3 with an RBI in game one, and followed that effort with a 2 for 4 performance the second game against the Broncos.
"Our hitting looks good," Wible said. "We just need to connect our hitting together and get them back to back. Hayley did play well. I like her intensity. You can tell on the field her intensity is bringing a lot (to the team)."
Brown, a freshman, and fellow freshman Jokisch are being counted on in the early going to be key members of the team and provide a punch for the team offensively and defensively.
Jokisch batted leadoff in the second game after going 1 for 1 with three walks in the first game.
Senior pitcher Jessica Pennington took the loss in game one, while Katie Williams was on the losing end of the second.
"I feel pretty confident in the way we played last week and the difference tonight," Pennington said. "It went a lot better. The first game is always kind of an experimental run."
The losses drop De Soto to 0-4 on the young season after 16-1 and 7-3 losses March 27 at Baldwin.
The Wildcats improved significantly after the first inning at Baldwin. Pennington gave up 12 runs, many of them unearned, in an error-filled first inning of the season.
Wible hopes to see that improvement continue when De Soto takes on St. James at 4:30 p.m. Thursday on the road.
"They (her players) are coming around," she said. "We've never played St. James before, so I don't know much about them. But we have a young team and starting new is hard for any group."
More like this story