Chasing records
Tracksters impressive in debut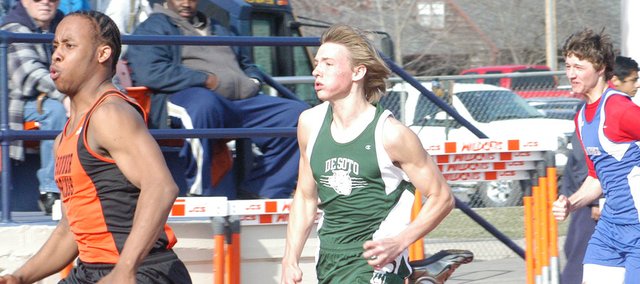 It's not that De Soto track coach Brian Dinkel and his athletes expected to be bad, maybe just not this good.
After taking third place on the girls side and fourth on the boys side of the Baldwin Relays Friday, Dinkel said the outcome was pretty positive and the team is looking forward to taking further strides.
"We had some kids step up in events that I didn't think we'd score points in. We are, by no means, where we want to be. We could always do better," Dinkel said. "But I'm not going to complain."
On the girls side, two teams among the field of 13 bested De Soto in points. One team was Baldwin, winning the meet with 143 points, and the second was Eudora, scoring 99 points. The Wildcats came in third with 81.5 team points.
Among those athletes who stepped up for the girls was Barbara Hartz, a junior exchange student from Germany. Hartz won the high jump, going 4-10, and the 100-meter hurdles with a time of 16.24 seconds.
Asked what event she felt the best about, Hartz didn't hesitate.
"The 100 hurdles. I've done the 100 hurdles once before and I was really bad at it," she said. "I jumped really high over the hurdles and this time it was cool because I was fast."
Other girls who had good showings were Cheyenne Williams in the pole vault and Shelbi Petty in distance running. Williams won the pole vault with a vault of 9 feet, and Petty, a freshman, came in second in the 1600 with a time of 5 minutes, 40.5 seconds and third in the 800 at two minutes, 35.58 seconds.
Shelbi Petty ran really well," Dinkel said.
Another freshman who did better than some expected was boys sprinter Jordan Riffel. Riffel took second in the 100 and third in the 200, but it was the manner in which he did so that had his coach most excited. The best runners in those events were Bonner Springs juniors, and twins, Jeremy Walker and Jonathan Walker. Jeremy Walker won the 100 - with a time of 10.96 seconds - while Jonathan Walker won the 200 - 22.65 seconds.
Riffel put up times of 11.33 and 22.91 seconds in the finals of the two events.
"I think he took quite a bit away from that," Dinkel said. "In middle school (Riffel) ran pretty much unchallenged all the time so getting to run against that competition is good. In the 200 he got beat but he was closing on those guys in the end so with more experience he's probably going to be right there with those guys."
Dinkel said the performance caught him by surprise.
"At least as long as I've been here we haven't had any freshman sprinters even be anywhere close to anything like that," Dinkel said. "All the coaches on our staff were pretty fired up about it. If he keeps with this, he's got a lot of talent."
Other good individual performances were put on display by Colin Jokisch, who won the 2000 meter steeplechase in 7 minutes, 7.84 seconds and Jamell Townsend, who took second in the long jump and third in the triple jump.
Townsend's long jump measured 21 feet, one-half inch which he said was good this early in the year.
"I got almost as far as last year," he said. "I don't know if anyone ever does their best in the first track meet, but I thought my long jump was alright."
The teams travel to Mill Valley Thursday for a meet that Dinkel expects to be not quite as tough as the competition De Soto saw at Baldwin.
"It was a good meet, lots of solid competition and some teams that we're going to see later on down the road at regionals," he said. "That just showed our kids that we can go in there and, like we've been telling them, we can compete with just about anybody. Hopefully they'll remain positive and get a little bit more confidence."
More like this story