DHS

spring play provides drama lesson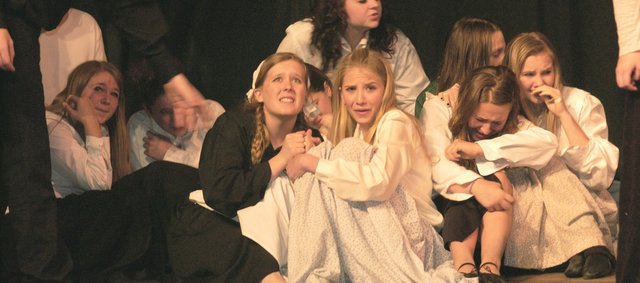 Photo Gallery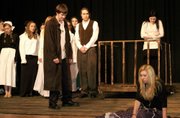 Dramatic lesson
De Soto High School theater students relearn the lessons of "The Crucible" with a performance of Arthur Miller's 1953 cautionary parable
Leann Sulzen
lsulzen@theworldco.info
De Soto High School senior Brittney Partlow said doing a play she studied in school has advantages and disadvantages, she said.
"It takes away character development basically," she said. "Getting around the fact that I already knew what the character development was, it was kind of inevitable."
This year's spring play is "The Crucible," a story about the Salem witch trials written by Arthur Miller in 1953 at the height of McCarthyism, when the government blacklisted accused communists.
In the play, a group of teenage girls lead the town into hysteria after they are discovered dancing and chanting around a fire in the woods. After a local slave, Tituba, confesses to witchcraft, 17-year-old Abigail Williams and her cousin Betty Parris latch on to the idea, confess witchcraft and then start accusing others.
De Soto High students also study the play during their junior year.
Although making her character her own will be a challenge, Brittney said she expects students to be attracted to the show.
"It's the relevancy because the whole junior class reads it," she said.
The play's relevancy is why director Bryan Hileman chose "The Crucible" for the spring play.
"I went through stuff they read as juniors here at De Soto High School," he said. "I wanted to do 'To Kill a Mockingbird' or 'The Crucible,' and with the students that we have I just felt like it would be a better to do 'The Crucible.'"
Hileman also said it was time for De Soto High to do a drama for its spring production.
"As long as anyone could remember, they hadn't done a drama here in a really long time," he said. "It was musical in the fall, comedy in the spring."
To advertise the play, the students made a trailer to show to junior English classes and other schools to promote interest.
Hileman said next year he likely would choose a comedy and switch off every year.
Junior Patrick King, who plays The Rev. John Hale, said "The Crucible" is one of the most challenging plays he has performed in.
"The lines are hard to memorize because it's the Old English Language," he said. "You might turn them around and make them more modern."
More like this story