Home quad showcase for improvement
They had just been beaten. Handily. Yet moments after a two-game loss to Frontier-League foe Ottawa, a proud shout arose from the huddle into which the De Soto volleyball players had retreated.
Soon the players emerged as well, face-splitting smiles all around.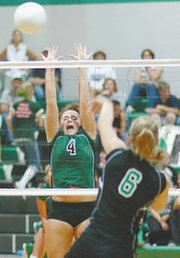 The De Soto volleyball team's most recent action, a Thursday home quadrangular, both began and ended with losses. How the Cats fared in a tournament last week, how they battled in Thursday's two losses and how well they played in a three-game win against Jefferson County North left the team and coach Jenny Barnhart satisfied, however.
"When we lost, we didn't lose in two games," Barnhart said. "We're battling and we're showing up to play."
De Soto opened its season with a 2-1 record, but stumbled mightily as the level of competition increased, dropping its next five matches.
Blessed with plenty of practice time and a young and what Barnhart termed ever-learning team, the Cats began to turn the corner Sept. 15 at a tournament in Marion. They finished fourth.
They continued to round the bend Thursday against Ottawa, Jeff North and Kansas City-Sumner.
The best games came against Jeff North, a match De Soto won 25-19, 18-25, 25-21.
After splitting the match's first two games, De Soto opened up the third game slow, falling behind 9-7. Danielle Price knocked home a kill to pull within one, then helped the Cats out of an other hole moments later, notching another kill with a hard shot that hammered the back corner of Jeff North's side.
The Chargers helped out with a lift and De Soto evened the score at 12.
The score stayed close, tying at 13, 15, 16 and 17 before De Soto finally got another advantage, 21-20, and closed it out by scoring five of the game's last six points.
"We have become more of a consistent team and that match showed it," Barnhart said. "Before, we were having trouble having consistency in a game, then in match. Now we're having problems with consistency throughout a night.
"We are improving, we are progressing and we are having a lot of fun."
De Soto didn't just play better in the match it won. It pushed the match against Sumner to three games, falling 25-9, 23-25, 25-11, then managed to save face against a powerful Ottawa squad.
The Cyclones twice threatened to blow the Cats out of their own gym. Ottawa put together a 12-2 lead before a serve finally flew awry. De Soto responded with an errant serve of its own, however, turning the momentum right back to Ottawa.
De Soto finally started to play better late in the game, making the score 17-7, then putting together a strong stretch to make it 21-11. It never amounted to much of a threat -- the Cats got within seven, 23-16 and lost 25-18.
The second game was similar, only reversed. De Soto played better to start the game and trailed by one, 14-13, when Ottawa's consistent and powerful attack finally began to break through, setting up a 25-16 win.
"There's only so much you can do against Ottawa," Barnhart said. "They have a quick offense and when our blockers are 5-foot-8, you can only do what you can do.
"The scoreboard doesn't reflect our hard work. We knew it would be an uphill climb this year with losing so many, but we're doing a great job and I'm really proud of the girls."