DHS

homecoming to offer night parade, pep rally
he De Soto High School Student Council members hope the changes they made to a homecoming tradition will be a hit.
Council members changed the homecoming parade time and added a spirit rally to immediately follow.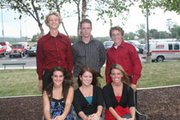 "We've never done a town rally or a night parade before, and we were hoping for a good turnout," said Student Council Vice President Jessica Pennington.
The parade route will begin at 6:30 p.m. Thursday at 83rd and Delaware streets. Participants will march through downtown to De Soto High where a spirit rally will follow in the parking lot. Coaches will speak about fall sports, and homecoming candidates will be recognized. Mayor Dave Anderson also will be present.
Pennington said those who want to see both the parade and the spirit rally should position themselves close to the high school.
Homecoming activities at De Soto High began Monday with spirit week. Monday was movie star or character day, Tuesday was Western day, Wednesday was pajama day, Thursday is flashback day and Friday is spirit day.
Friday night, De Soto High will play its homecoming game against Paola High School at 7 .m. Homecoming king and queen will be crowned during halftime.
Homecoming activities conclude Saturday with the "Salsa at Sunset" dance at 8 p.m. in the commons at De Soto High. Tickets will be for sale this week during lunch and at the door.
This year's homecoming court princes and princesses are freshmen Jeffery Bowen and Ellie Sheridan, sophomores Andrew Mechler and Alex Cox and juniors Mark England and Brittany Wright.
Homecoming queen candidates are Michelle Faircloth, Savannah Rawie and Cheyenne Williams.
Homecoming king candidates are Eric Bufkin, Mason Flinn and Colin O'Neill.