Chili cooks forego prize money for fun, charity
Colleen Lintner didn't win Saturday's De Soto Rotary Club's Chili Cookoff at Zimmerman's Kill Creek Farm, but that was fine with her.
Winning might seem the goal of a competitive cooking event, but Lintner and the man who won the event had different priorities.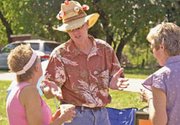 "It's about meeting nice people and raising money for charity," she said. "It's about spending time with my chili family."
Unlike competitive barbecue, there are no cash prizes in chili competitions, said Steve Dowdy, event organizer for the Mo-Kan Chili Pod of the Chili Appreciation Society International. Contestants vie for points and the occasional trophy. All money raised at the events is donated to charity, he said.
The event succeeded in the later goal, raising $1,000 for the organ transplant organization The Gift of Life Foundation.
But the real goal is to have fun, Dowdy said.
"I didn't win today, and I don't care," he said. "I like the guy who did win, and I'm glad he won."
The Rotary cookoff had two events. The CASI members cookoff is for chili purists. There's no beans or filler in the chili, just sauce and spices. Judges scored the entries based on aroma, color, consistency, taste and after taste. The open homestyle was a people choice selection with contestants invited to add whatever they chose.
Saturday's CASI winner, Larry Velasquez of Mission, said it was an honor to win over Lintner in the Texas style competition of Chili Appreciation Society International and its local branch, the Mo-Kan Chili Pod.
Both Linter and Velasquez have qualified for the Super Bowl of chili competitions the International Chili Cookoff in Terlingua, Texas, slated for Oct. 29 through Nov. 3.
With that, Velasquez said he altered his recipe a bit.
"I had a spice I wanted to try," he said, as he packed up his and that of his wife and fellow competitor, Peggy. "It worked great."