Exhibit of De Soto inspired artworks opens
For Kansas City, Mo., artist Edwin Johnson, the Sunflower Army Ammunition Plant water towers have always represented De Soto.
"When I was growing up during World War II, you heard a lot about De Soto," he said. "Whenever anybody said De Soto, you immediately thought about the towers."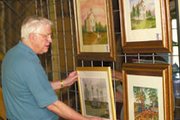 Johnson was one of two artists to make the connection between De Soto and the water towers for the De Soto Arts Council's "Finding a Sense of Place" art show. The show staged to commemorate the city's sesquicentennial will run through Sunday in the White-Waltzmann Barn at Zimmerman's Kill Creek Farm, 9210 Kill Creek Road. The juried art show of two-dimensional art works inspired by past and present De Soto opened Wednesday with a gathering of the artists.
Although the Sunflower water towers inspired two artists, their treatment of the subject is far different. Seth Smith's oil painting is a dramatic statement with dark purple storm clouds threatening white sentinels. Johnson offers a contemplative view with the photorealism he displays in three watercolors in the show.
"Sometimes, I pick up the oil brushes to get away from the tight realism," Johnson, former Central Missouri State University and Hallmark artist, said.
That contrast pleases Darrel Zimmerman who conceived of the show last year, helped organize the new De Soto Arts Council to run it and found sponsors for $1,750 in prizes and $5,000 in purchase pledges.
"It's amazing," he said of the response by artists. "I never thought we would get this many pieces. But it's not only the pieces but the variety of media and subject matter."
The works include oil paintings, watercolors, pastels, photographs and a ceramic representation of De Soto City Hall, a building that once served as the community high school.
That last piece's creator, Patricia Young of Lenexa, said she was pleased with the work.
"It's architecture works with what I do," she said of City Hall's windows and doorways. "I carve out the clay and put in porcelain inlays.
"You never know what you're going to have when you put it in the kiln. It takes a long time to dry and put on the glaze."
Local photographer Carrie Dvorak said she was excited to be part of the show. She also was encouraged by the formation of the local arts council, which she hoped would spur more shows in the future.
"I hope it does because there are a lot of creative people in the De Soto area," she said.
More like this story