Saturday to honor old West heritage
When Al Klusman learned Monday there was to be a Pony Express re-enactment Saturday in De Soto, his joked of an unexpected opportunity.
"I can count coup," the president of the Indian Council of Many Nations said.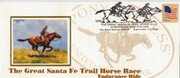 Klusman was in De Soto with other officers in the organization to work out details of a powwow this Saturday at Miller Park.
That a Native American powwow and a re-enactment of the Pony Express mail-bag relay are scheduled for Saturday is not an accident.
"We got the Pony Express re-enactment because of the powwow," said De Soto City Clerk and De Soto Sesquicentennial Committee Chair Lana McPherson. "The Postal Service wanted something else going on before they would schedule a stop in De Soto."
True to its roots, the Pony Express re-enactment will be fast and furious. By contrast, the powwow in Miller Park will be an all-day event.
But the Pony Express event won't be limited to the relay. McPherson said blocks of downtown from Peoria to Shawnee streets will be blocked off from 8:30 a.m. to 12:30 p.m. for the event.
The De Soto High School Band and Bubbles the Clown will be on hand in front of the De Soto Youth Ministries to help provide a festive mode, most downtown businesses will be open and six vendors will be provide refreshments and more to the crowd. In addition, history buffs can see the past first hand at the Abbott Museum and Dean Weller's downtown antique car garage
The first Pony Express rider will arrive at the De Soto Post Office at 11:30 a.m. with the mail exchange scheduled for noon. The second rider and De Soto resident Max Atwell will then stick around to answer questions about the Pony Express.
The De Soto Sesquicentennial Committee's few remaining commemorative Pony Express bags also will be for sale and a Pony Express rider will be available to sign them.
In addition, the De Soto Post Office will offer cancellations of three different envelope designs created for the event, featuring a painting of Pony Express riders by Lawrence artist Stan Herd, noted for the artwork he creates in Kansas farm fields. The Post Office will also have a poster of a Herd painting for $8.
De Soto Post Master Mike Mori said the Post Office would be open its usual Saturday hours of 8:30 a.m. to noon. In addition, a postal clerk would man a table in front of the Post Office from 11 a.m. to 1 p.m., he said.
The powwow that will start with a dedication of the grounds at 11 a.m. Saturday in Miller Park between the shelter and the gazebo is coming to the city at the invitation of the De Soto Sesquicentennial Committee, said Richard Porch, treasurer of the Indian Council of Many Nations.
During the planning visit Monday, Porch and other officers with the metropolitan area intertribal Native American cultural advancement organization were impressed with the facilities at Miller Park and its potential for a powwow. Their only concern was seating, and they encouraged those attending to bring lawn chairs.
Porch said the drummers and dancers at the powwow would be joined by six to eight vendors offering hand-crafted Native American crafts, jewelry and food.
"They'll have fry bread, Indian tacos and Indian hotdogs," he said.
Indian tacos have much the same ingredients as traditional tacos except they are served on fry bread, Porch said. Indian hotdogs are wrapped in fry bread and deep-fried.
"It's not health food, but it's good," he said.
Porch said about 75 dancers and their families are expected to attend the powwow. The dancers will include all those familiar to powwows, including female jingle, fancy shawl and traditional dances and male grass, fancy, traditional and gourd dancers.
Among the gourd dancers will be Mike Henre, a mechanic with the De Soto Street Department.
"We do it to honor veterans," he said. "All veterans are invited to come be a part of the dancing. You don't have to be an Indian to be participate in the dance."
Porter said the gourd dance was but one of the dances spectators will be invited to participate in as part of the powwow's goal of sharing and spreading Native American culture.
"We hope people learn about Native American culture and come away with a better understanding of our heritage," he said. "Some of them may study their own heritage and learn they should be out here dancing with us."
More like this story