The De Soto football coaching staff may not know it, but they're quickly painting a pretty simple path toward victory for their opponents.
To beat the Wildcats, the opponents -- Anderson County this week, a 7 p.m. kickoff in Garnett -- simply need to stop quarterback Erik Hill for uncorking any deep passes. Or steady runs. And stop Mark England from tearing around the outside. And Dylan Burford. And Shane Miller -- oh, and don't let that one intercept a bunch of passes either.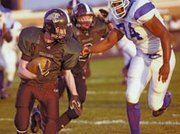 Simple -- or, the Cats hope, nothing like it.
With a steady diet of a multitude of different offensive weapons and a strong defensive effort, De Soto beat Kansas City Sumner 26-10 Friday and improved to 2-0 the same way it became 1-0.
Now, the Cats are focused on making it 3-0 against an ever-hard-nosed Anderson County team.
"Anderson County is those typical rural kids that always play tough," De Soto coach Brad Scott said. "Our kids maybe underestimate them when we're watching film, then we get down there and they're so tough.
"We've got to take care of our business, assert ourselves and play our game."
Hill racked up 89 yards on 16 carries and threw for one touchdown and Burford ran for 59 yards and two scores as the Wildcats overcame a 3-0 first quarter lead and a 10-6 halftime deficit to win.
Dylan Burford scored De Soto's first touchdown with a three-yard run in the second quarter, and later put the Cats ahead with a nine-yard touchdown run in the third.
"We knew they were going to be good because last year when we played all their best players were juniors," Scott said. "In the first half, that proved true. We didn't tackle particularly well and offensively, though we moved the ball, we kept shooting ourselves in the foot.
"The kids knew we were moving the ball and it was a little frustrating. We were doing fine, but Sumner made some plays when they had to."
De Soto finally built momentum later in the game.
Clinton Smethers followed Burford's scores with one of his own, scoring his first touchdown of the season with a two-yard scamper of his own
The Wildcats topped the scoring off with a 79-yard pass from Hill to England, setting the final score late in the third quarter.
"We thought one of our big strengths against them was that we were in better shape," Scott said. "When we came out in the third quarter, we just went bam, bam, bam, down the field and scored."
More like this story