Boyfriend charged in teen's death
Griselda Del Real, the 17-year-old girl who died Friday after being struck by an SUV allegedly driven by her 19-year-old boyfriend, was a friendly teenager quick to smile and ready to talk to all, those who knew her said Tuesday.
"She was always happy," her cousin Armando Acosto said Tuesday while talking with friends at De Soto's Taco Bell/KFC restaurant where Del Real worked. "She would talk to everybody."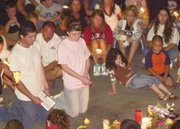 Del Real had been an employee at the fast food restaurant just east of De Soto High School for two years, afternoon shift manager Nora Cepeda said.
"All I can say is we lost a very lovely person," she said. "She was a great employee and a friend.
"She was friendly to everyone."
De Soto High School Principal David Morford said Del Real was a senior starting her fourth year at the school.
"She was a very nice young lady," he said. "She was a good student. She was quiet but very friendly. One comment I heard a lot today was how friendly she always was."
The 17-year-old girl died from injuries sustained at about 10:40 p.m. Friday when she was struck in the 8200 block of Ottawa Street by a Cadillac Escalade driven -- the Johnson County Sheriff's Office alleges -- by her 19-year-old boyfriend Johnny Landa, De Soto. Del Real died Saturday in Overland Park Regional Medical Center.
Landa was charged Saturday with reckless aggravated battery and failure to stop at an injury accident. On Tuesday, District Attorney Phill Kline amended the battery charge to second-degree murder and added an obstruction of justice charge for alleged conduct during an interview with authorities.
Robert Harvey, who lives on the south side of Ottawa Street about 100 feet east of the 82 Street intersection, said he heard a vehicle speeding down Ottawa with someone shouting "stop," followed by what sounded like a car door slamming and a vehicle racing away. He left bed to investigate when he heard progressively louder groaning, Harvey said.
"I saw the body and called 911," he said.
The De Soto Fire Department stationed three blocks away was on the scene within minutes, Harvey said. But before they arrived he saw a white SUV and a black car pull up to the injured girl, he said.
"Someone yelled 'Oh, my God,' and they sped off," he said.
Johnson County Sheriff's Office spokesman Tom Erickson said the incident apparently stemmed from a domestic dispute during which Del Real was riding on the running board of Landa's SUV. On arriving at the scene, officers surmised from her injuries that she had been run over after falling from a vehicle.
Erickson said Landa was not at the scene when sheriff's deputies arrived but returned after receiving a phone call from officers. Landa was taken into custody at the scene.
Erickson said Landa remained in Johnson County jail Tuesday with a $500,000 bond. A 17-year-old woman riding in Landa's vehicle at the time was not charged and was "not involved," Erickson said.
Visiting a shrine Tuesday that sprang up at the 83rd and Ottawa street intersection, Griselda Marquez and Susana Marquez said they didn't believe Landa intended to hurt his girlfriend of nearly four years.
"That's what we're hoping," Griselda Marquez said. "That's the only thing that makes sense.
"He was troubled, but I think he was very misunderstood."
The two unrelated young women went to school and worked with Del Real, they said. Both now work at Taco Bell, where Landa would regularly visit to spend time with Del Real during her breaks, they said.
Griselda Marquez said she became Del Real's best friend in middle school when the girl's parents, Bertha and Juan Del Real, moved to De Soto. "The Griselda twins" worked together at various stores and fast-food restaurants before both started working at Taco Bell, said Griselda Marquez, who graduated last spring from De Soto High School.
In the last year, the two girls drifted apart as Del Real spent more time with Landa, Griselda Marquez said.
"When you thought of Johnny, you thought of Griselda. When you thought of Griselda, you thought of Johnny," she said. "They were always together.
"Johnny had a pit bull and Griselda had a Chihuahua. They were like a family and the dogs were their babies."
The two young women said Del Real and Landa's relationship didn't appear rocky. The couple was, the two said, "like everybody else."
Del Real was a "realist," Griselda Marquez said.
"She was the person that always told you what she thought no matter what," she said. "She would say, 'You needed to hear that.' She was like my mom."
With about 540 students, De Soto High School is a "family," Morford said. The school initiated its crisis plan Tuesday, calling in counselors and psychologists from throughout the district, he said.
"They were busy," he said. "We had a couple of students upset enough to contact their parents to let them go home.
"I had a lot of students in here today asking what they could do for the family."
The school is working with the De Soto Taco Bell to raise money to help the family with funeral expenses and hospital bills, Morford said.
A box for donations and comments for the family was placed Tuesday in the school's office. Jars for the same purpose also have been placed on the counters of Taco Bell where donations will be accepted through Sept. 15 and other fast-food restaurants in De Soto. Donations also will be taken Friday at the De Soto High School football game