Former student learned lasting lessons
Sarah Tyrrell can't remember who first referred her to Mara Etta Copeland for voice lessons when she was about 10 years old, but said she was glad they did.
"The principles that she taught me absolutely will affect what I do," she said.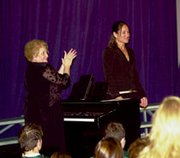 Tyrrell now is a faculty member at the University of Missouri-Kansas City where she teaches music, and she is an active performer and artistic director of the Metropolitan Chorale of Kansas City.
Although she has gone on to pursue her bachelor's, master's and even doctoral degree in music, Tyrrell's educational roots are in the De Soto school district. She attended Woodsonia Elementary School and graduated from De Soto High School in 1988.
Tyrrell made a trip back to her musical roots Tuesday night to sing at her alma matter during the De Soto High School Choir's fall concert.
"I had been wanting to bring back an alumnus to perform for us," Copeland said. "We ran into each other at a party about a month ago and I asked her to come, and she said OK."
Tyrrell's soft-spoken talking voice was deceiving as she took the stage and sang powerful opera numbers by Mozart and George Gershwin. Her former voice instructor and choral director Copeland accompanied her on the piano.
After the concert, Tyrrell and Copeland remembered the solo pieces that were hard to come by, as the current De Soto Choral singers are starting to choose their pieces for competition.
"The big one was 'The Last from the Low Country,'" Tyrrell said. "Everybody always fought over that song. If you weren't a senior, forget it. I got it when I was a senior, though."
That song still is highly desired for solos, Copeland said with a chuckle.
Tyrrell now has her own voice students, she told Copeland, but she had a surprise for her.
"I still have that little folder that I carried to your house," she said.
The folder contained exercises with hand-written notes by Copeland. Tyrrell said she still uses those exercises when working with her own students.
"New techniques come and go, but the voice doesn't change," she said.
Tyrrell said it was a treat to watch Copeland in action while remembering all she learned from her former choir teacher.
"She made us disciplined," she said. "She really seeks perfection and precision. She was always very strict, but the results were worth it."
During her career, Tyrrell has worked with several directors and has even been asked about her techniques by one of them.
"She'll look to me and she'll tell me, 'What can I do to get the sopranos to do this or do that,'" she said. "Usually it's a technique that Mary Etta taught me."
More like this story